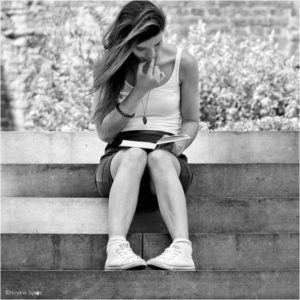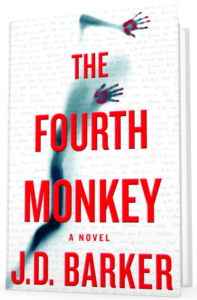 They're called plot twists. You'll recognize them almost immediately because one minute you're reading, happily turning the pages faster and faster, and then suddenly, wham! You have to read the sentence again. You re-read the paragraph. You go back a couple of pages, and you think to yourself: WTF? What just happened?
4 Perfect Plot Twists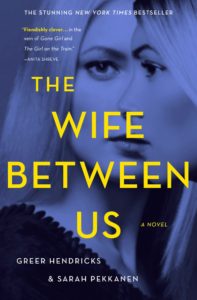 When it's done really well, it sends chills up your spine, and lifts your reading experience into a whole different universe. It's happened to me with Gillian Flynn's Gone Girl, J.D. Barker's The Fourth Monkey, Karin Slaughter's Pretty Girls, and most recently with a domestic noir thriller titled The Wife Between Us by Greer Hendricks and Sarah Pekkanen.
I first heard about The Wife Between Us on Goodreads when Eldon Farrell, an indie author (Descent series), and one of my GR friends sent out a status update of the book. "Let me pick my jaw up off the floor, after that twist," he wrote, having read 42%  of the novel. Other Goodreads friends who were reading ARCs expressed similar sentiments. I quickly put it on my to-read list and pre-ordered a copy for delivery on its publication date.
Most Anticipated Thriller
The Wife Between Us, touted as one of the most anticipated thrillers of 2018 starts with Vanessa, the ex-wife of Richard, a wealthy successful investment broker ostensibly stalking her younger replacement, Nellie, a schoolteacher. As the book opens, Nellie is happily preparing for her upcoming nuptials to Richard even as she is being drawn into his evil sociopathic world.  For those who have read the book, you'll know what I'm talking about (for those who haven't, I think my  reference is sufficiently obscure) when I say that the plot twist occurs almost half-way through the novel when we find out that Nellie, in fact, is not Vanessa's replacement.
Ingenious Literary Device
Who she is, and why her story occupies the first part of the book interwoven with vengeful Vanessa's tale becomes clear around this half-way point. What also becomes clear, maybe more to writers than readers, is that this is as much an ingenious literary device (eliminating the need for too much of that no-no, the flashback) as it is a plot twist. This latter sentence, I believe, will be lost on anyone who has not read the book, and does not, anyway, even hint at the fabulous final revelation which I thought was just the perfect end-twist for this book.
What Is A Plot Twist?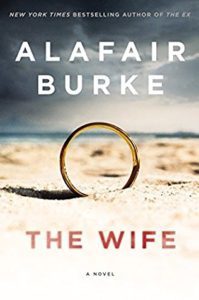 Which brings me neatly to my idea of a perfect plot twist is. It is not a tying up of all the loose ends into a big surprise reveal at the end by the protagonist/master sleuth as are many of the best Agatha Christie novels. Nor is it a big, super-duper, shock eye-opener at almost the very end of a novel that turns the whole story on its head. If that were the case, then my favorites of all time would have to include Dennis Lehane's Shutter Island, Lionel Shriver's We Need To Talk About Kevin, William Landay's Defending Jacob, as well as, most recently, Alafair Burke's The Wife.
Rollercoaster Ride
Rather, for me the perfect plot twist has to occur somewhere near the middle of the book. British thriller author Sophie Hannah does not agree with me on where it has to occur. She includes end-twists in her top ten twist list, but says this about plot twists wherever they occur:  "So many people think a brilliant resolution is the same thing as a twist. It isn't […] Part of what makes the brilliant ones so attractive in fiction is that feeling of having everything you thought you knew reversed, inverted or demolished; the fictional equivalent of being on a rollercoaster that suddenly turns upside down leaving everything looking and feeling very different for the rest of the ride."
Perfect Plot Twists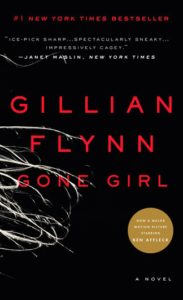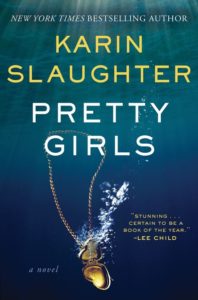 Which is why the following are at the top of my list of thrillers with perfect plot twists:
Gone Girl (Gillian Flynn): Because you think that something dire has befallen the female protagonist Amy, and you suspect, like the cops who are zeroing in on him, that her husband is responsible for whatever awful end has befallen her. But, then you find out what really happened to Amy.
The Fourth Monkey (J.D.Barker): Because you think this is a story of a race against time, where the cops must find the last victim of a serial killer who has perished after he stepped in front of a city bus, apparently deliberately. But, then you find out that the serial killer's work is far from done.
Pretty Girls (Karin Slaughter): Because you think this is a story about a young widow who discovers that her husband was leading a secret life involving what appear to be snuff movies after he is knifed to death in a random act of violence in an alley. But, then you find out what really happened in the alley.
So, Why Only Three Stars?
As ingenious and perfect as the plot twist in The Wife Between Us was, I nevertheless rated the novel as a three-star read — which prompted an instant "can't believe it" from my friend, Eldon. Unfortunately, while the plot twist was ingenious, stories about abusive, sociopathic husbands are not my cup of tea. It's just too difficult for me to believe that abusive, totally one-dimensional sociopaths can somehow manage to ensnare bright, smart, professional women, and literally overnight move them into dream homes (prisons) far away from friends, work and any vestiges of their old lives.
Have You Got A Favorite Plot Twist?
I'd love to hear which novel includes your favorite plot twist ?  Please click here to let me know
And, if you liked this post, please click on the Like Button. You can find it below, or in the sidebar depending on whether you are reading this on your iphone, tablet or computer. Clicking will not require submitting any information about yourself, nor will it capture any information for use in sales pitches or similar.
Top Photo credit: Hindrik S on Visual Hunt / CC BY-NC-SA