It's News Squib Saturday, but I am combining today's Squib with my website feature, Behind the Scenes/Book3  to tell you all about a great author experience I enjoyed in St. Augustine, Florida this week:  I Discover the Algonkian Author-Mentor Novel Workshop
There were nine of us: authors from the two Beaches, Pebble and Palm, and all points in between. Two men, seven women (until the second day when one of the women writers dropped out.) More to the point, the faculty we met on the first day, Michael Neff, author and founder/director of the Algonkian Writer Conferences, and Paula Munier, author and agent were joined over the next couple of days by a Pulitzer prize-winning author (Robert Olen Butler) , a bestselling suspense novelist (Hallie Ephron), and executive editors from two of the top five traditional publishing houses (Brendan Deneen of MacMillan Entertainment, and Lyssa Keusch of William Morrow/Harper Collins.)
Eight authors, six mentors. Yep! We all got the individual attention we were craving!
Intense
But we also had to work our butts off. We worked through three 7-hour days, enjoyed two working dinners, talked about writing through four delicious breakfasts (and Happy Hours) at the Bayfront Marin House, and survived a detailed one-on-one evaluation on our last day. The workshop was for authors with works- in- progress, commonly referred to as WIPs. Two of us — myself , and Mandi who has a day job teaching school, were previously published. None of us were interested in self-publishing. We were all working towards commercial publication, meaning we accepted that writing for a commercial market isn't about writing whatever you want, but adhering to the conventions of a chosen genre.
We were all at various stages of our WIPs, but none of us appeared to be armed with a complete, perfect manuscript which we were really, really ready to pitch to editors or agents. I definitely wasn't, having been distracted, as I wrote a couple of weeks ago,  by news events of recent weeks. Nevertheless, our first assignment for the workshop was to present a pitch: our story description in 200 or less words. We all toiled into the night.
Yikes!
The pitch, as used at the workshop, was a diagnostic tool. As the Algonkian Method emphasizes: A strong pitch means a strong novel. In turn, each of us through our pitches gave up the plot of our novels, the genre in which we are writing, and the authors we are hoping to emulate (or the comparables, as they are known in the business.) Both Michael and Paula, walking encyclopedias of the current state and mechanics of the publishing business, viewed our pitches through the prism of our chosen genre conventions. It was understood, and pointed out to us that, of course, for every rule or factoid about the publishing business there is always the exception that proves the rule. Example: Science fiction isn't selling – except when it's a story about a man stranded on Mars (The Martian.)
Rewrites & Revisions
Questions arising from our pitches led to discussions about our characters, their strengths and weaknesses; they prompted plot re-direction, re-thinks on killing off main characters,  title changes, discussions as to what works in each author's chosen genre, ideas on what needed to be developed further, and even name changes (my heroine's name became Jenna when Harriet was deemed too old- fashioned.)   And, so, off we went to work on our pitch revisions. Again, and again over the next couple of days. The best pitch re-write came from one of our two male authors who came in on the second day and informed us as follows: "Yesterday my protagonists were two down-and-out druggies, heroin addicts, today they are well on their road to recovery."
Pitching to Editors
After two intense and intensive workshop days (9-4.30pm), we were thrown to the "wolves." In this case, they came, as mentioned above, in the form of very kind and helpful veteran editors and authors including Hallie Ephron, four-time finalist for the Mary Higgins Clark Award, whom I had met 20 years ago when we were both starting out as suspense novelists.
It is usually accepted that when an author pitches to an editor or agent, he/she has a ready manuscript to hand over if the editor/agent shows interest. I did not.  The pitch, nevertheless, was immensely instructive since the questions asked by the editors (other than, is your manuscript finished?) pointed me in the direction of a couple of characteristics in my heroine that need to be considered, and maybe re-written.
Now, all I have to do is get down to finishing the darn novel.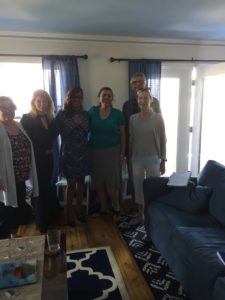 I await additional comments (below) about our workshop experience from fellow aspiring authors.  You know who you are (pictured from left to right) : Paula, Chris, Lunka, Mandi, Noreene, Doug, and Greg (not pictured.)
Please Sign Up For Future Posts

If you enjoyed this squib, and would like to read future posts about writing and related topics about a writer's life, please click through to the Welcome page to sign up for email notification of new posts. Only one notification for each squib — and No Sales Pitches Ever .
Oh, and if you liked this post, please let me know by leaving a comment or just clicking on the Like button