I've been writing for a living for more than four decades.  I've written for newspapers and magazines in Britain (London Evening News, Woman's Own, True Magazine) and in the United States (STAR Magazine, TV Guide).  I grew up in London during the Swinging 60s. I landed in New York during the disco era of Studio 54 and Xenon to write for TV news (at WNEW's, 10 O'Clock News where I was the writer/researcher on an Emmy Award-winning documentary, Irish Eyes ) and for a tabloid TV newsmagazine (Fox TV's, A Current Affair).
I've had two novels published Scandal (1996) and Delusion (1997)). They were both set in locales where I was living at the time of writing, Palm Beach and Philadelphia http://www.joannaelm.com/books/.  Scandal was published as an original paperback and sold 70,000 copies.  I have written a screenplay that was not made into a movie.
After graduating law school, summa cum laude, I researched and assisted in drafting opinions for a judge in the appellate division of the New York State Supreme Court. I also wrote memos, motions and briefs for the District Attorneys of Brooklyn, NY and Suffolk County on the East End of Long Island.
Memoir or Fiction?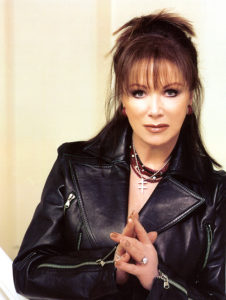 For so long as I can remember, I wanted to write a novel. Not a literary masterpiece, but a rollicking good read like the ones I used to read by Jackie Collins (left)  and Judith Krantz, or like the early mystery and suspense thrillers by Mary Higgins Clark and James Patterson.  As a child, however, I was mainly influenced by the prolific British children's author, Enid Blyton.   So, I started writing fiction in grade school in London.  We were supposed to keep diaries documenting the events of our weekends.  But long before author James Frey became a synonym for "confusing" memoir and fiction, I was doing just that. Rather than writing about my boring life with just one brother, I invented a half-dozen siblings for myself. I don't know if my teacher ever found out the truth, but I eventually confessed to my father who, if I remember correctly, laughed it off.
 In Lady Antonia's Footsteps
He encouraged my dream. He thought being a writer was a splendid career for a woman.  I could be like Lady Antonia Fraser, he used to say, writing books while staying home with the children.  Not a very realistic role model, as it turned out, considering she was married at the time to a Member of Parliament (and subsequently to the great British playwright, Harold Pinter) and was undoubtedly wealthy enough to hire a nanny for each of her six kids while she wrote her fabulous biographies.
Obviously, the idea of making enough money to support myself by writing novels was a dicey proposition. So,  in 1970, I embarked on the first of many diversions I would encounter on the road to becoming a published author:  I became a reporter. I joined the Birmingham Post, the largest provincial daily newspaper in the U.K at the time.  The job eventually led to a position on a Fleet Street newspaper, the London Evening News, where I worked as an investigative journalist.
True Stories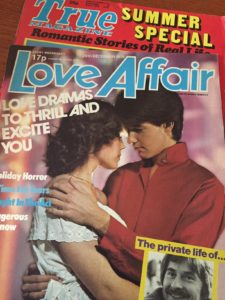 In my spare time, I wrote for True Magazine and Love Affair, which were also known as "confessionals" (the British equivalents of  True Story and True Confessions ) –  a venture in which I became prolific and much in demand.  But writing fiction was difficult and far less glamorous than hanging out after work with fellow reporters, swapping "war" stories over a few drinks. It was no different in New York where, for almost a decade, I worked as a reporter, news editor and eventually managing editor for the tabloid, STAR Magazine.  It was a job that was so much fun, I always secretly felt I should be paying my employers, not the other way round.
Almost any other writing job is easier than writing a novel. And so, given the opportunity, I generally opted for a job. At TV stations or at magazines, I wrote about real people in real life events. Even law school and work as a judicial law clerk seemed easier because legal writing is principally based on precedent, and there is no need to reinvent the wheel.  Writing a novel or a screenplay, on the other hand, meant "chaining" myself  to a desk so that I could fill blank pages from my own imagination.
I stayed "chained" to my desk long enough to complete my first two novels mainly because of the support of my husband, Joe, and the understanding of my son, Dan.  Joe is the most loving, generous husband in the whole world and introduced me to my first agent. Dan is a better writer than I ever was at his age, and  provides me with insights into worlds I would never otherwise have thought about.
Click here to read a New York Times in-depth interview with me when my second novel, Delusion, was published.