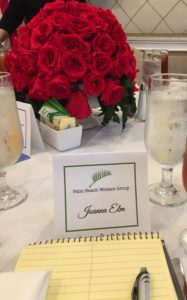 Scott Eyman is a former book and art critic for the Palm Beach Post, and the author of 15 books. These include three written about, and with, Hollywood icon, Robert  (R.J.) Wagner, husband of the late Natalie Wood whose drowning death 37 years ago is under new investigation as of last week.  So of course when Eyman was scheduled as a speaker for the Palm Beach Writers Group this week, I signed up.
His speech to the group was aimed at the self-published/indie authors in the group for whom he had a wealth of good advice as detailed below. I, however, grabbed him before lunch to ask how on earth his good friend R.J. was dealing with last week's news of the re-opened investigation into the drowning death of wife actress Natalie Wood.
It's been 37 years since 43-year old Wood (Rebel Without A Cause, West Side Story) drowned off the shores of Catalina Island in California. And still, according to Eyman the gorgeous actress's drowning death rears its head "every few years like a JFK conspiracy theory."
New Investigation
I had good reason to zero in on the re-opened investigation. In November 1981, when Natalie Wood's body was discovered floating near the yacht's dinghy off Catalina Island I was an editor on the news desk of the tabloid Star magazine. Natalie Wood's drowning death was big news.  We sent an ace reporter from New York to the West Coast to find Dennis Davern the captain of the Splendour, the yacht on which Wood had been drinking and partying with husband, R.J. Wagner, and Christopher Walken, her then co-star, just hours before she was found in the water.
I don't remember now what the Star headline on that interview was, or what Davern told the Star, but whatever it was his story did not change for years or decades after that night. Thomas Noguchi, the Los Angeles coroner at the time ruled the death an "accident." The L.A. Sheriff's department re-opened the case in 2011 after Davern said that Wagner and Wood had been arguing on the yacht. Two years later the L.A. coroner amended the death certificate to "drowning and other undetermined factors."
Last week, detectives reclassified Wood's drowning as a "suspicious death" and say 88-year old Wagner is a "person of interest" in the case. But the evidence collected so far hasn't reached the threshold for a murder investigation and there are no immediate plans to file criminal charges, detectives said. "This is a suspicious death investigation. This is not a murder investigation,"said Lt. John Corina of the L.A. Sheriff's department. "We're reaching out one more time to see if people will come forward with information."
Ongoing Nightmare
That night of drinking and partying , of course, is a nightmare that hangs over actor Wagner's head, but it is ludicrous to imagine that the cops will unearth anything new after all this time. There were just four people on the yacht at the time of the accident. Natalie drowned, and the other three have given their accounts to the cops already.
Eyman who has become good friends with Wagner and his wife Jill St. John said: "This pops up every couple of years because the cops want to look as if they're doing something. There's nothing R.J. can do.  He gathers the girls round him (Natasha, Natalie's daughter by second husband, Richard Gregson and the couple's daughter Courtney) and they process it, but there's nothing more he can add. He answered all the questions back then. Memory doesn't get better with age."
Tell A Book By Its Cover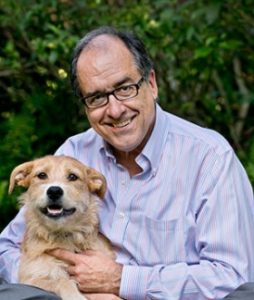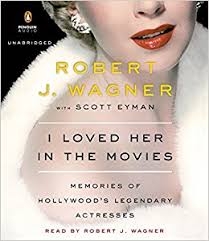 Eyman who appeared at last year's Palm Beach Book festival with Robert Wagner to talk about their book, I Loved Her In The Movies, told the Palm Beach Writers Group that he has learned that you really can tell a book by its cover. "The core problem with self-published authors," he said " is that no-one knows who you are. A book cover is less important if you're Lee Child or John Grisham, but for an indie author, a cover is most important."
Eyman suggests hiring an artist, whatever the cost. "So many self-published books look like the covers were produced by a 10th grader in photoshop. If you've spent years writing a book, why wouldn't you spend $750 for an artist who will produce a professional cover? Your book is like a job interview. You're trying to get a reader to hire you. So, first impressions count."
First Drafts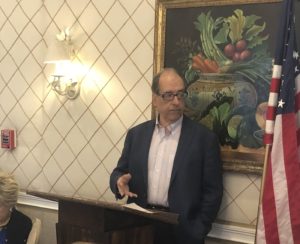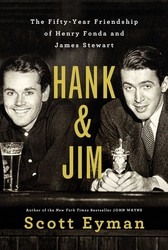 Eyman whose latest book is Hank &Jim (about the fifty year friendship between Hollywood legends, Henry Fonda and Jimmy Stewart) had a final piece of advice for authors/writers: "Don't try to create and analyze at the same time," he said. "I write a complete draft without wondering if anything is working. After you've put it together, then you can ask the hard questions like: Will anyone who isn't a relative care about what I've written?"
"My first reader is my wife and she loves everything I write. Then comes my editor. He's not going to say, you've spent four years writing this book and you produced 'merde.' You have to be your own roughest critic."