BOOKS by Joanna Elm

Scandal, published by Tor/Forge in 1996, as an original paperback, was Joanna Elm's  first mystery thriller.
"Fresh, original and unpredictable" – Nelson DeMille, bestselling author.
"Elm [… ] has a vivid writing style and solid narrative ability" – Publishers Weekly.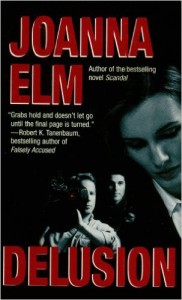 Delusion, was published in hardcover,by Tor/Forge in 1997.  The paperback edition was published in 1998.
Delusion is available for kindle at  http://amazon.com/dp/0812564804
"The plot's the thing here as Elm hurls one curveball after another." – Publishers Weekly
"Grabs hold and doesn't let go until the final page is turned." – Robert K. Tanenbaum, bestselling author
"A classy book by a classy writer."- William Heffernan, author of The Dinosaur Club.