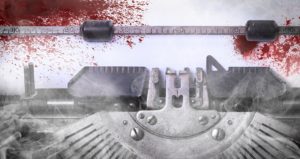 It's News Squib Saturday, but I'm going Behind the Scenes today to explain why I haven't been able to steam ahead with the first draft of Book3. I blame Twitter, TV — & Trump. 
It's been only three weeks since Donald Trump spoke about "American carnage" in his inauguration speech, but the mood of despair and dysfunction which he stirred up continues to linger and makes it difficult to focus on fiction. Editor, author, and blogger, Nathan Bransford summed it up best for me when he wrote : "There's a lot I've been intending to blog about recently […] But then I read the news or go on my social feeds and writing seems like the last thing on anyone's mind. And, in a way, the things I want to write about feel so trivial in comparison to the news of the day."
But I've Got a Deadline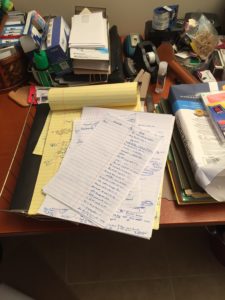 I've never had writer's block before. Been a professional writer all my life. When you make your living by writing, writer's block is an indulgence you mostly cannot afford. Procrastination, of course, is a different matter. Taking advice from my own blog of a few weeks ago , I set myself a deadline for finishing a very rough draft of my third thriller, working title, Book 3. It's coming up at the end of this month when I am due to attend a four-day writer's conference. I was plodding along nicely: got my outline done, wrote pretty good first drafts of the chapters in Part One; made extensive notes, and scribbled dialog into the chapters for Parts Two and Three.
But this is how my writing days have looked recently. Let's take Wednesday of Trump's second week in the White House as an example:
Wake up
Weather in West Palm Beach: sunny, not so warm; perfect writing weather. Cursory check of news stories in New York Times & on Twitter (where as @authorjoannaelm I follow approximately 45 different newspapers, magazines, news sources and major news columnists.) Have to make sure that rest of the world is still okay; that New York has not been nuked overnight, and that Poland and the Czech Republic (where some family still lives) have not been annexed by Putin.
Also, need to see what "alternative facts" Trump is spinning to his supporters. There have been some beauties, haven't there? Like blaming a "Delta computer outage" for "trouble" at the airports last weekend just in case his supporters were falling for the "fake news" that the photos of the crowds at the airports were thousands of protesters objecting to the "Muslim" travel ban.
Coffee on Balcony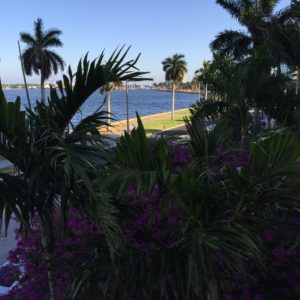 I turn to The Washington Post  (love all its opinion writers, Krauthammer, Marcus, Parker, E.J. Dionne, Eugene Robinson ), then click through to New York Times Op-Ed features, and the Wall Street Journal Opinion Page; read William A. Galston's article, Nothing Redeems Trump's Travel Ban (referencing Rudy Giuliani's interview on Fox News where he reminded viewers that Trump promised throughout his campaign that he was going to institute a "Muslim" ban.)
Glance through headlines in the U.K's Guardian newspaper. Read article, The World's Doors Were Closed. It's an excerpt from a transcript of an 1982 interview with the late Rae Kushner, grandma of Trump's son-in-law, Jared. It's her criticism of America's refusal to accept Jewish refugees fleeing the Holocaust during World War II.
Circle back to Twitter because, you know, it's been about an hour since I last checked that feed.
Mid-morning TV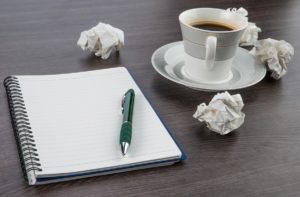 CNN goes live to Trump at the White House at what he calls "our little get together" of black staff and supporters commemorating Black History Month. Simply cannot believe, (feel so embarrassed for his aides) when Trump has to look down at his notes to get out the name, "Reverend Martin Luther King … eh, (pause, look down at notes)… Junior."
Mouth drops open further when Trump tells assembled group, "you read all about Dr. Martin Luther King  a week ago," and then proceeds to re-tell again the story of how one reporter mistakenly wrote that the bust of the civil rights leader had been removed from Oval Office. As if that story is ALL there is to know about MLK; as if no-one in the group has ever read anything about MLK before because there was nothing to read until  "somebody said I took the statue out of my office […] They said the bust of Martin Luther King was taken out of the office. It was never ever touched. So, I think it was a disgrace, but that's the way the Press is. " BOOM. DONE.
So, that's enough about Dr. Martin Luther King Jr., because then it's time for Trump to slip in the names of Harriet Tubman and Rosa Parks, and Frederick Douglass who Trump adds (ad libbing, it seems) is "an example of somebody who's done an amazing job that is being recognized more and more, I notice."
Neither he nor White House Press spokesperson, Sean Spicer (who tries to explain Trump later)  appear to know who Douglass was, or that the abolitionist and civil rights leader died in 1895.
Circle back to Twitter because, you know, an hour is a long time in the Trump White House.
More TV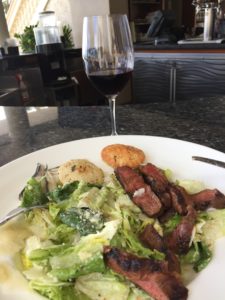 CNN goes to White House briefing and Spicer tries to answer the question: Do you have any idea what specifically he (Trump) was referring to (in his quote about Douglass)?
Spicer (verbatim): "Well, I think there's  – I think he wants to highlight the contributions that he has made. And I think through a lot of the actions and statements he's gonna make, I think the contributions of Frederick Douglass will become more and more."
I don't know whether to laugh or cry. Or to write something. I think about writing a new chapter for Book3. I wonder if I should have any of my characters talking about Trump? Would it be weird for none of the characters to even mention him?
Time for Lunch
I pack my bathing suit and Kindle (with an idea of reading in my genre) and throw in the hard cover of Anne Lamott's Bird by Bird which I am re-reading. Head over to the Beach Club. Walk the 2.5 miles, door to door, because I didn't schedule a tennis game this morning because I was supposed to write today. Ha!
Order and devour Caesar salad with flatiron steak, and a glass of cabernet.  Move to a chaise.  Check back with Twitter, nap a little, text my writer friend, Cathy Helowicz (@chelow116) who has just tweeted about the effect Trump is having on her writing: "all this discourse is sucking the #creativity right out of me."
She asks if I'm planning to join the march on Mar-a-Lago at the weekend when Trump is due in town for the Red Cross Ball. "Only if I can smoke weed while I'm protesting."  It needs to be a double whammy for me;  it's the only way now to catch up with two things everybody else did, — but I didn't — in the Sixties.
Vegging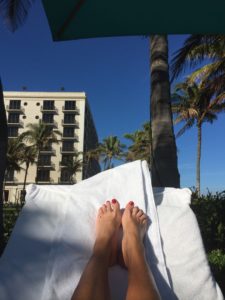 Check Twitter again, check my emails. Then, because I've got my phone out and my glasses on, I Google the actual wording of the TRO petition filed in federal court by Washington State against Donald Trump;  then check out my "competition" (haha) in the NYT bestseller lists. Yep, there they are: Grisham, Steele,  Keeland, Baldacci…. Wait. Keeland? Who's Vi Keeland? She's at #5 (print and e-books) with Egomaniac.  I Google Ms. Keeland. Turns out she has sold millions of her erotica romances as an indie writer. At $3.99, how can I not download a copy? RIGHT NOW.
Further turns out Ms. Keeland is an attorney by day which I think accounts for her solid writing skills as well as the witty banter between the protagonists. In any event, I like Egomaniac so much, I immediately download Bossman by the same writer. There's absolutely nothing going on in my head as I let myself enjoy the steamy romances in my own steamy romantic setting of cloudless sky and gentle ocean breezes.
And So It Goes
And so the week went. And, then we were into (only) Week Three with a fresh onslaught of Tweets and rants from Trump about a "so-called" judge; and about appellate judges who "failed to grasp concepts even a bad high-school student would understand," and about daughter Ivanka being treated "so unfairly" by a store that discontinued carrying her fashion line; and about the "very, very dishonest" media, and a Tweet analysis  ("disgraceful decision") of the 29-page ruling of the 9th Circuit against him on his immigration ban, on and on and on it went.  Columnist Peggy Noonan in her WSJ column wrote this week, "Trump has overloaded all circuits. Everything is too charged with sparks and small shocks all over […] Nothing feels stable."
But, I do keep my self-imposed deadline for the Saturday Squib here on this website, and here it is, and if that's all I do this week, at least, it's something.