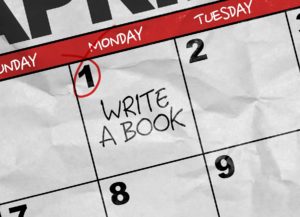 I don't know what other authors do, but when my husband, Joe, recently left for five days on a trip to Florida, I spent that uninterrupted, quality writing time with another man.
What can I say? The guy's good-looking, smooth-talking, and in great shape, although he's obviously a bad-ass. I've spent a lot of time thinking about him lately; it's not an exaggeration to say he intrudes into most of my waking moments.  So, as soon as Joe left me to my own devices, I let this bad guy move right on into our happy home.
The Other Man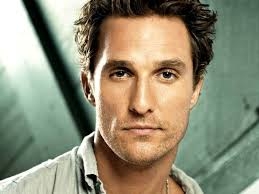 Hey! Just kidding. For starters, this guy is not a real, live person!  Of course not. The man I'm talking about is the antagonist in my third thriller (Book 3). I've invented him — totally. The image I've imported into my Scrivener software to give me a little idea of what he looks like is this photo of actor Matthew McConaughey. My antagonist's good looks, however, mask some deeply disturbed and disturbing thoughts and actions which he directs at my protagonist, a former New York tabloid reporter whom he blames for a big tragedy in his life. I'm almost done with the first draft, and some chapters are already in the second draft phase. However, even at this stage, I'm still not completely sure how things are going to end for him.
Ever since I returned from the Algonkian novel workshop in February, my antagonist has been my main focus. Before the workshop, I knew what he was doing to my protagonist, and why he was doing it, but I  focussed on her reactions to his "misdeeds"  and her efforts to track him down and stop him.
Bad Guy "Needs Work"
During the workshop, however, mentor and Pulitzer prize-winning author Robert Olen Butler suggested that my antagonist's story was "the story" to tell.  And, workshop director, Michael Neff suggested I restructure my thriller using dramatic irony, a classic literary device, where readers will know almost from the outset who the "bad guy" is, but will be in a state of suspense wondering if the protagonist will uncover the truth in time. For a while, I couldn't figure out how to write the story that way, but then, after weeks of "noodling" and thinking, I did. It's been quite an experience.
I drafted entire new chapters from my antagonist's POV (point-of-view.)  Now, I understand him so much better, and there are moments when I even like him ( which is a good thing I'm told: antagonists should have humanizing qualities.) But I came to a point where I had to be clear in my own mind exactly what my antagonist wants/expects to gain from his misdeeds, and how far he'll succeed in getting what he wants?
It's not as simple as it seems: As Robert McKee, author of Story teaches at his screenwriting seminars: the best characters in fiction have a conscious desire which appears to drive their actions, and a subconscious desire which is what they really want, and which sometimes contradicts their conscious desire.  So, five days of solitude and isolation seemed like a godsend at this stage of my manuscript. This is what I did to make the most of it:
Alone With A Bad Guy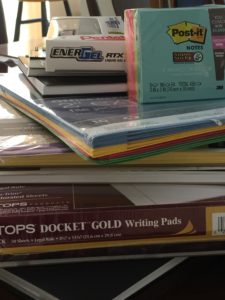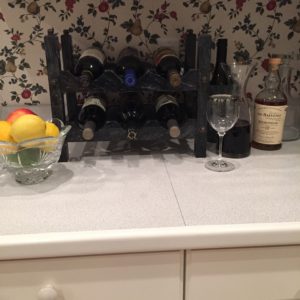 Got all necessary supplies in so that I'd have all essentials at the ready. That meant a "wine run" as well as shopping for paper, pens, notebooks, and post-its — without anyone hovering over my shoulder, asking : Do you really need 24 liquid gel pens???
Answer: yes, I do. They're not all the same color; twelve are black; twelve are blue (and there's always Book 4 to think about !!!!) Anyway, I love shopping for stationery supplies, probably more than I love shopping for anything else (except, maybe shoes.)
 Bliss of Alone Time
For five days:  I stacked dishes in the sink instead of putting them straight into the dishwasher; and kept the lights on in the whole house all night so I could move from bed to couch or desk to write (or read) without banging into the furniture in the dark when I woke in the middle of the night .
Took all my notepads, notes, laptop, iphone and ipad to bed with me so that I'd have my books and notes and scribblings at hand at all times.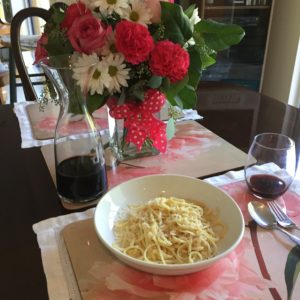 Ate leftovers straight from the refrigerator for lunch, and prepared only the simplest dishes like cacio e pepe (pictured) for dinner. It takes six minutes to cook the pasta, a minute to mince garlic and melt butter, and a minute to grate parmigiano cheese and grind black pepper over the pasta. (When Joe's home, he likes pasta with a homemade sauce, preferably authentic bolognese.)
Made copious notes about my antagonist's thoughts and motivations, and left them in little piles dotted all over the TV room without worrying about someone else (Joe) stepping on them, or tidying them up before switching on the TV.
Spoke to no-one (except the plumber who came to fix a toilet); slouched around the house channeling my inner slob while trying to download Poetics, a book by Aristotle — which screenwriter Aaron Sorkin swears tells you everything that's required of protagonists and antagonists.
I wish I could say five days of "alone" time was enough time to nail down my antagonist, and finish the manuscript. It wasn't — but at least it seems like the pieces are finally taking shape and falling into place.