It's News Squib Saturday — but instead of posting News Squib#14, I'm taking a break from the news (both real and fake) this week to share some highlights and tips from writers with whom I got together last night at the Leopard Lounge, in The Chesterfield, a historic landmark in Palm Beach.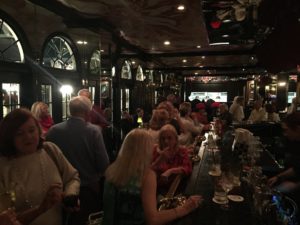 Swanky

The Leopard Lounge, once described by a Palm Beach Post reporter as the kind of  "dark and swanky" bar that "Don Draper might have taken a paramour during Mad Men's first season," was the location for a holiday gathering of some 35 writers and editors last night. The evening was organized by Cathy (Kat) Helowicz, (aka Hostess with the Mostest) and author of a children's book,  On Grandpop's Lap. She is in the middle of writing her first novel for adults, and told me she recently enrolled in author James Patterson's MasterClass, a series of 22 video lessons on how to write a best-seller.
James Patterson MasterClass

A fellow MasterClass attendee, Robert Bailey (pictured left), whose day job is real estate development, is also writing his first novel, (working title, I Never Felt That Way.) He said one of the best things that had happened to him as a writer this year was the discovery of Scrivener, writing software for novelists and screenwriters. (I can attest to Scrivener's magic — although the fact that I had to purchase a Scrivener for Dummies manual to understand how the software works made it a little daunting at first.) Bob also told me he had submitted his first ten pages to the Palm Beach Book Festival's unpublished writers' contest. The winner gets an introduction to a New York literary agent, and the contest results are generally announced in January. Good Luck, Bob.
Golden Age

Against the background of the Lounge's black-lacquered walls, leopard print carpet and handpainted red and white swirl ceiling, author Robin R. Cutler (pictured right) told me that her new book, Such Mad Fun: Ambition and Glamour in Hollywood's Golden Age was named to Kirkus Reviews' Best Books of 2016. No surprise there. I started reading the book about Robin's mother who turned her back on a debutante's life to become a Hollywood screenwriter in the 1930s, and absolutely love it. Robin self published this book. It took her seven years because she was determined to get top professionals to copy edit and design the book cover. "You can't cut corners self-publishing a book," she said. And, it's very obvious she didn't. I think her book cover is one of the most beautiful I've seen this year. Here it is: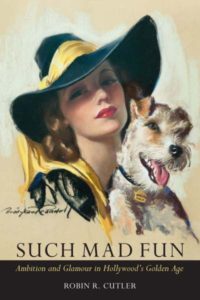 Wine, Writing & Travel

Among other authors at the gathering, was co-founder of the group, Jim Gabler (pictured left), author, lawyer and wine historian. His passion, wine,  led to the publication of several books including How to Be a Wine Expert: A Beginner's Guide and Passions: The Wines and Travels of Thomas Jefferson. He told me the best thing about writing his books is that "it's got me giving hundreds of talks all over the country. Part of the fun is meeting new people."
Birdcage Fodder

Former United Press International reporter, Marie-Louise Brulatour-Mills, who worked for the wire service in Rome in the 1970s and is writing her first non-fiction book recalled how a fellow reporter calmed her nerves on her first day on the job. The reporter worked for the competing Associated Press newswire. "She said, don't worry about it, whatever you write is going to be lining a birdcage tomorrow."
I was given the same kind of advice — except in London I was told that my news reports would be wrapping for fish and chips the next day. Of course, that was way before the days of the Internet where now our words will linger forever in cyberspace!
Back in History

Sharon Wallenberg (pictured left) told me she has completed her first book, The Search for Raoul Wallenberg: The Truth. Sharon shares the same name (but no family connection) as the humanitarian who is widely celebrated for saving thousands of Jews in Nazi-occupied Hungary. He disappeared in 1945 in mysterious circumstances after being detained by KGB secret police, and reportedly died in the notorious Lubyanka KGB headquarters in Moscow. Sharon said her grandfather came from the same village in Sweden as Raoul. The book took her three months to write.
Sex After Sixty

That's the title of a new book that's in the works from Howard H. Howard, author of four historical novels. I bumped into Howard on my way out of the holiday gathering, and he told me he is co-authoring the book with Marcia Chellis, author of The Joan Kennedy Story, and a new novel, Love Letters in the Sand. Marcia is a member of PBWG but was not at the holiday gathering last night. Howard said: "The new book is not really going to be about sex. It's about finding yourself single suddenly when you're around that age."