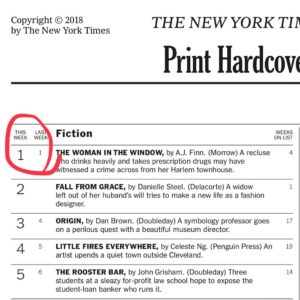 You may not be instantly familiar with the name A.J. Finn. But I bet you've heard of his book,The Woman In The Window ? Yep, that's the one that catapulted straight to #1 on the New York Times bestseller list the week it was published.  Okay, now you know the one I'm talking about, right?  The NYT one-liner description of this psychological thriller is: "A recluse who drinks heavily and takes prescription drugs may have witnessed a crime across from her Harlem townhouse."
It's the first debut novel in 12 years to make it straight to #1 on the NYT bestseller list in its first week of publication.  That is simultaneously great news (for authors who want to believe that magic still happens), and totally out of left field (not even Gone Girl did that!)
Really This Good?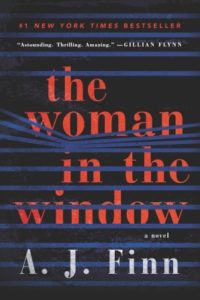 Of course, as an author, I am always pathologically curious about a phenomenon like this. I wonder if any book can be this good?  In at #1 in its first week of publication? Can the hype possibly be true? Can this really, truly be "the most anticipated thriller of 2018" — even though on publication day we were only two days into the New Year. What was so special about it? And, like maybe hundreds of "lesser" authors, both indie and traditionally published, I wondered : Was it really the story? The writing? Or does the credit belong mostly to the publishers' marketing and promotions departments?
In the New York Times, veteran book reviewer Janet Maslin likened it to Rear Window, a Hitchcock movie classic which starred Jimmy Stewart,  "with a dose of The Girl On The Train." Then, I read all the glowing reviews in the mainstream press, and on Amazon.com, on Amazon.co.uk., on Goodreads, and on a whole slew of book blogs.
OK, I'll Buy
I downloaded it to my Kindle. I started reading. With a jaundiced eye. This thriller better live up to expectations, I thought. I finished it in two days. I liked it well enough, but I didn't love it. Not in the way every single reviewer had loved it.
I turned to the 1 and 2-star reviews on Amazon and Goodreads. I agreed with some of the criticisms: the pacing isn't the greatest, nothing really happens for 32 chapters; it's "waaaaaayyyyy tttooooo llllooonnnggg" for genre fiction; the female protagonist is a drunk, addict, and a freak  — and yet it shot to the #1 slot on the NYT bestseller list on publication day.
How come?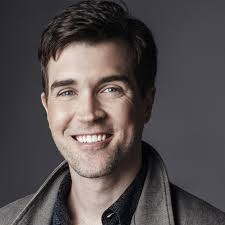 I googled. I read all the articles I could find about the book and the author. The author totally endeared himself to me in this snippet in a NYT article about the writing of the book:  "plotting came to him in an easy burst, the writing proved more of a challenge. 'Getting a character from a sofa to a window is surprisingly difficult,' he said." (Don't I know that feeling!)
I read most of the interviews with A.J. Finn, a first-time author who hit the jackpot with a seven-figure advance in a bidding war which was won in the U.S.by William Morrow, the publisher where it turns out A.J. worked as an executive editor under his real name, Dan Mallory.
Whoa! Hold on! Back It Up There!
Q: He works at Wm. Morrow? The same guys who bought his first book?
A: Yes, but the publisher didn't know who he was. He used a pen name in selling the book.
Q: Okay. Did he get an agent the same way? I mean, using a pen name no-one ever heard of?
A: No. He didn't. He went to a friend who is an agent.
Q: Nothing wrong with that. I did that,too. My first agent was a good friend of my husband's. My husband introduced us. By the way, who is A.J. Finn's agent friend?
Big Agent, Big Agency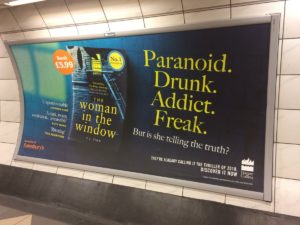 As it happens, A.J. Finn's agent friend is Jennifer Joel, a very powerful agent at  ICM, a very powerful agency. In one of the interviews, A.J told how he approached her with his idea; and then produced a 7,500-word outline. Joel encouraged him to write the book. It took a year with Finn writing on evenings and weekends. Then, Joel suggested edits and revisions before the manuscript was ready to be shopped to publishers.
Let it be acknowledged, knowing a literary agent is an advantage. It means a writer can skip the dreaded task of writing query after query in what is only the first tiniest step in finding a publisher.  Knowing a powerful agent (Joel represents, among others, Shonda Rhimes, creator of the TV show, Scandal) in a reputable agency is even better though it doesn't always necessarily mean there'll be a frenetic bidding war for your thriller.
Here, however, the book's description included the magic words, "psychological thriller" — a hot, hot genre (and, I hope it stays that way) since Gone Girl's stratospheric sales. It also had a surefire premise that could be pitched in just one sentence as Rear Window meets The Girl On The Train.
Seven Figure Deal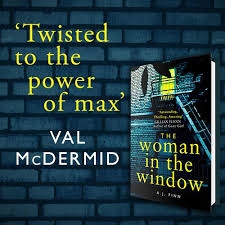 By mid -2016, Finn had sold The Woman In The Window to Wm. Morrow in the U.S. and Harper Collins in the U.K. for a rumored seven figures in an eight-house auction. By the time of that year's Frankfurt Book Fair, the biggest, most important book fair for international deals, the film rights had also been sold to Fox 2000.  Subsequently, foreign rights were sold in 38 countries.
It was time for the publishers to start building buzz.  Recouping a seven figure investment requires more marketing and promotion than just buying a few Facebook ads or offering Goodreads giveaways. The book's publishers sought endorsements from superstar authors, and received praise for the book from, among others, Gillian Flynn, Stephen King, Ruth Ware, Louise Penny, Tess Gerritsen and Val McDermid.
Big Buzz
Next? Reviews. It's as true today — with hundreds of thousands of indie authors self-publishing their work — as it was before self-publishing took off that word of mouth sells books. And, one surefire way to build buzz is by getting reviews. It worked for bestselling author J.D. Barker (The Fourth Monkey) who explained on this website how he, as an indie author, got dozens of reviews by querying book bloggers, and paying for 1000 Advanced Review Copies (ARCs) to send out to reviewers.
In the case of The Woman In The Window, publishers Wm. Morrow and Harper Collins apparently sent ARCs to virtually every mainstream newspaper and magazine, and almost every book blogger in the U.S. and U.K. — even, it would appear, to bloggers not specifically interested in the thriller genre like allaboutromance.com. Undoubtedly, the accompanying publicity material included the exciting information about the film rights, foreign rights and the endorsements of superstar authors.
Love Those Unreliable Narrators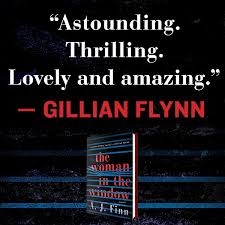 Reviews started appearing in major newspapers like the New York Times, The Washington Post, The Chicago Tribune, USA Today, and in the dailies of many other major cities; also in digital and print magazines like Entertainment Weekly, and Vox. In NYT Books, Janet Maslin appeared amazed. She wrote: "Dear other books with unreliable narrators: This one will see you and raise you."
"The buzz was building for some time," said Andrew Lownie, a top UK literary agent. "There was a lot of pre-publication publicity including proof copies being sent out to opinion formers (influencers) for pre-review last year. The timing was good. The vogue for psychological thrillers continues."
Next Week :
Before there was buzz for The Woman in the Window, A.J. Finn had to write the book. As a first-time author, he followed some rules, but he also broke some rules. Part Two, next week looks at how A.J. Finn wrote a thriller that became a NYT #1 Bestseller.
By subscribing to this blog, you will receive next week's post by email as soon as it is published.