It's Squib Saturday. Time to share the best, most interesting (or most entertaining, or most outrageous) tidbit of information I've gleaned from all the stuff I've read –or done– this week: How to Stop Procrastinating by Going To Lunch
If there is one thing writers love it's to listen to advice on how to stop procrastinating long enough to finish their novels or screenplays. Give them the opportunity to listen to such advice over a long, leisurely lunch, and most writers will leap at it. I certainly did when I got an invitation to attend the Palm Beach Writers Group talk and lunch at the Chesterfield Hotel's Pavilion Room this week. The subject of the talk by PBAU English professor and writer, Dr. Gene Fant?  How I Learned to Stop Procrastinating and Love Deadlines.
What's procrastination?

That's definitely for me I said to myself relishing the thought of setting aside my laptop for the afternoon though, truth be told, I probably would have wasted the time anyway waiting to see what outfits the gorgeous Melania (a fellow immigrant of Eastern European descent) had chosen for her big day. Or, I would have spent the afternoon on Twitter waiting to see exactly how long it would take the new POTUS to tweet. See, that's what procrastination is all about: there's always something seemingly more important to do than sitting down at your laptop to write.
Three Productivity Tips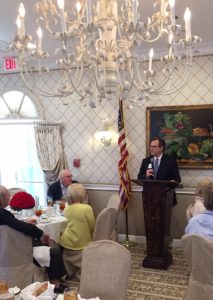 As it was, on Inauguration Day I procrastinated, but in a very productive way because this is what I learned from Dr. Fant, a pioneer blogger at First Things and The Chronicle of Higher Education, and writer and editor of more than a dozen scholarly and popular press books:
Every writer should:
Find a way to generate deadlines for him or herself. These can be artificial deadlines as, for example, in promising to send Mom (or a friend, or other relative) a chapter a month.
Stop writing in the middle of the page or even in the middle of a sentence because a blank page is the biggest impediment for a writer.   Dr. Fant acknowledged borrowing this tip from a fellow professor/writer, but it's a very good one. I've heard it said before in a different way: Don't ever write till you've written yourself dry. It's much easier to get right back to your computer or laptop if you stopped in mid-flow the day before.
Find your rhythms: Block out a specific time to write. Establish triggers for that block of time — whether it's the first cup of coffee of the day, or eating a piece of chocolate — and don't allow anything else to intrude on that time. For some writers, the block of time will be only 20 minutes. Doesn't matter. It'll keep the juices going every day.
In extreme cases, it could mean working in bursts of 18-20 hours like William Faulkner, American Nobel Prize laureate worked — but, of course, if that's how you work, you'll need to cut a couple of inches off your office door like Faulkner did so that someone can slide your meals and drinks under the door for you.
Photo Credits: Cathy Helowicz; Bigstockphoto.com;