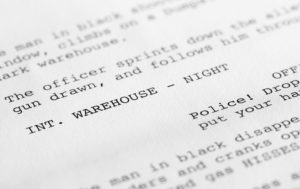 One of the best things that can happen to a writer is to have a novel or screenplay made into a movie or TV series. The next best thing –almost– is to hear your dialog (over which you laughed, cried, agonized, tore your hair out) performed by real-life actors. The latter is what happened recently to Doug , one of the writers I met at the Algonkian Author-Mentor workshop earlier this year. Here, in the very first guest post on my website, Doug Spak, who freelances as an advertising copywriter, writes about his experience:
The Reading by Doug Spak
In April of this year, a film director/editor friend with whom I'd worked on numerous TV commercials and videos invited me out for drinks. "Do you have any interest in working on a screenplay" Terry asked me.
I've always dreamt of writing and selling a film script. But knowing the tremendous odds against selling a spec script, I focused my creative energies on novel writing (not that the odds of getting a novel published are a hell of a lot better!) I was happy, however, to put aside my novel because I've been stuck on where to take the story since coming out of the Algonkian workshop. It was good to have an excuse to focus on another creative endeavor.
It turns out a wealthy couple had approached Terry and his production partner Aymie. The couple made their fortune in the pet food business and now wanted to blow it all by getting involved in the glamorous business of movie-making. As a first step, Terry and Aymie asked me to write a treatment to share with the potential investors. A film treatment is a 1-2-page synopsis of the story idea: major characters, theme, plot line, etc.
Must Have A Dog
"But, before you agree to write the treatment, you need to know that the investors have three strict requirements for the story," Terry said. "First, it needs to be filmed in the Cincinnati area. Second, it must be Christmas-themed; like something you'd see on the Hallmark Channel, but more edgy than schmaltzy. And third, a dog must have a major role."
No problem, I think. It's "Cujo" meets "Love Actually." A no brainer.  About a week later, I was struggling to come up with an idea. The requirement to include a dog was more challenging than having to build the story around a Christmas theme.
PIcasso To The Rescue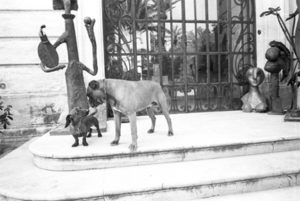 One day, my friend, who is also my office landlord, was clearing out a bunch of old books from his office.  One of the boxes was near my office door. As he and I spoke, I casually sifted through the books in that box. Near the bottom of the pile, I came upon a book called
The Private World of Pablo Picasso.
Published in 1958, the book was a pictorial biography authored by David Douglas Duncan who was a famous photographer of the times. He was invited to live in Picasso's house for one year.
I took the book home for my wife who is an artist. But I spent that night reading the book. As it turns out, Picasso was a passionate dog lover who owned many different breeds during his lifetime. During the Duncan year, Picasso owned a beautiful boxer, Yan. That's when I decided to write a story that would have art as a theme and a boxer as a main character.
Christmas Story With Dog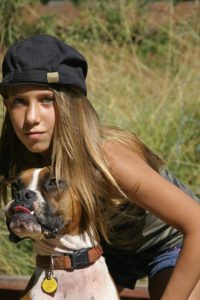 Two to three weeks later, I sent my treatment. With a working title of A Christmas Masterpiece, the story revolves around Emma, a bright, precocious, engaging and rebellious 15-year-old (Think Ellen Page in "Juno."). Emma is also a gifted artist. After losing her mother in an auto accident, Emma, and her magically intuitive boxer, Rocky, move to Ohio to live with her grandparents. The setting is Lakeside, a dying, post-industrial ghost town. In the primary plot, Emma convinces Joe, a 40-ish reclusive artist to become her teacher
Joe agrees to be Emma's teacher on one condition: she never inquires about his personal life. In the final act, Emma discovers that Joe is actually Braxton Tate, who was once a prodigy known throughout the world as the Second Coming of Picasso. But on Christmas Eve 20 years earlier, a drunken Tate crashed his car, killing his pregnant wife. After spending time in prison, he dropped out of civilization. When Emma "outs" Tate to an art blogger, he throws her out of his house and life. When Emma's grandparent's house burns down in a Christmas Eve fire, Tate shows up at the hospital to see Emma. With Rocky's help, teacher and student help each other overcome their tragic pasts. Tate also donates all of his saved paintings to the Lakeside Holiday Art Sale, which raises millions and transforms the dying town into the "Taos of the Midwest."
The investors loved the treatment (the wife cried). Unfortunately, they said they wouldn't be ready to invest until 2018. So, I tossed the treatment in a desk drawer and got back to work on my novel.
Yes, I Lied.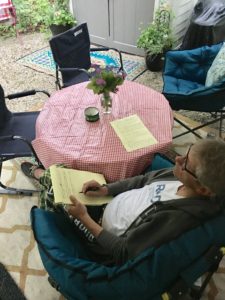 Fast forward to July 4th weekend. My wife and I have a summer camper in Door County, Wisconsin, the narrow peninsula between Green Bay and Lake Michigan. Looking for something to do, I happened upon the Isadoora Playwrights Collective. The Collective is a group of writers and actors who invite playwrights from throughout the Midwest to give a table-reading of works in progress.
When asked if I had any works in progress, I lied and said I had recently finished a screenplay. Saying they'd never done a screenplay, I was invited for a table-reading of the script on August 25th during my next visit to Door County.
Having about six weeks to transform a two-page synopsis into a 110-page screenplay, I put my novel aside and got to work (The script for a typical 90-minute film is about 110 pages). I had a great time writing the script, probably because I love writing dialogue. As I do with my novels, I worked from a fairly tight outline, but allowed for modifications as the story evolved.
Writing Tools That Helped
On average, I spent about 2-3 hours per day from the start of the project until typing the final FADE OUT.  I've been using Scrivener for years and love it.  Scrivener has a Screenplay module that's simple to use. It makes everything really simple.
 The other "tool" I used was Blake Snyder's Beat Sheet. Snyder wrote the book Save The Cat, considered one of the better books on the art of screenwriting. Most screenplays are written to beats, certain things happening at certain times (or, more accurately, on certain pages of the script). Most of my time was spent working on the beat sheet, then a detailed outline based on the beats. The easy part was writing the dialogue.
Table Reading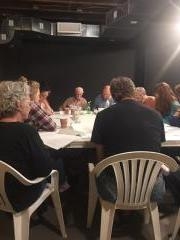 At 10pm on August 23rd, I typed "FADE OUT" and headed to Wisconsin with 15 copies of A Christmas Masterpiece. The Isadoora Playwrights Collective meets in the basement of an art gallery in Sturgeon Bay. More than a dozen actors showed up to read the 17 speaking parts in my story. I provided a character sketch for the major parts as well as a synopsis of the plot. I was amazed at how easily the actors morphed into their characters without having seen the script in advance.
In particular, it was beautiful to hear 15-year-old Isabella own the part of Emma. Her father Ross, who has a number of film and TV credits to his name, played the reclusive artist Joe. Father and daughter played the penultimate showdown between Joe and Emma to perfection, giving me chills.
Tears & Thrills
When I read "Fade Out" three hours later, I was humbled to see a number of actors crying at the table. We spent another 30 minutes, during which they shared excellent thoughts on plot points and holes that needed to be filled. For example, when Emma wakes up in the hospital to find Braxton at her bedside, she asks if her grandparents are alive but doesn't ask about Rocky. A minor thing, but the playwrights picked it up and I didn't.
Isabella/Emma and the other teenage actors also offered pointers on more authentic "teen lingo." They said I should pull back on my use of words like "dude" and "lame."  As one of the young girls said, "you're forcing those words on us."
Without question, hearing others read my work with such passion was the most gratifying experience I've had as an artist. I'm realistic enough to know A Christmas Masterpiece may never get produced. My plan is to turn it into a young adult novel. But I'll always have the thrill of the table reading and the satisfaction of knowing I was able to move somebody with my words. Isn't that the ultimate dream for any writer?
Photo Credits Bigstockphoto.com ; Kate Spak