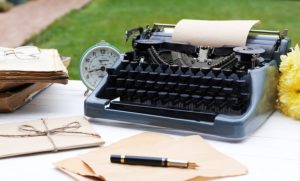 Most indie authors grapple with the all-consuming issue of how to stand out from the crowd by creating memorable content and sufficient "buzz" for their self-published novels. Of one million books published a year, some 700,000 are self-published. Very few indie authors reach sales in the thousands, and fewer still break even after costs for giveaways and promotions and advertising are taken into account. A recent article by author Nicole Dieker  (on the website of publishing industry expert, Jane Friedman) attested to just how disheartening statistics for self-published authors can be.
Hitting The "Publish" Button Too Soon
Some indie authors simply hit the publish button too soon. Often, that's obvious on the very first page of the novel, or the typos, grammatical errors, formatting mistakes and plot holes begin to pile up as you plow through the pages.  Others have great concepts/themes or plots, beautifully written , but don't know how to reach readers.
Checklist for Success
In the interests of full disclosure, I'm not really interested in self-publication for my third thriller.  I'm not sure I have the tenacity or skills required for the intense marketing efforts involved in self-publication. But, hey, when you hear about an indie author who makes it big, you tend to sit up and listen. As a former indie author, J.D. Barker knows the challenges well. While his latest thriller, The Fourth Monkey was picked up by traditional publishers and movie and TV studios (and was my choice for the ultimate page-turning thriller of the summer) J.D. self-published his first novel, Forsaken. So far Forsaken, a supernatural thriller,  has sold approximately 250,000 copies worldwide, and earned J.D close to a half-million dollars.
Consequently, I figured J.D must be doing something right both in content and marketing. In my first article based on my interview with J.D., he enumerated the five no-no's that will doom a novel. Today, in the second part, J.D. looks back and identifies some of the crucial steps he took on his road to success, before — and after– hitting the publish button.  Here they are:
Writing is Re-Writing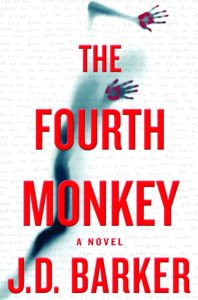 "Anyone can write a book, it takes a good editor to tell a story," says J.D., and adds: "From the time I step out of my office with a new manuscript in hand until it finally lands on my publisher's desk, red ink is spilled."
He tells me that he typically writes  five drafts of a novel. Nobody, other than himself, sees the first draft. When he has cleaned up all the problems and mistakes that he can catch, the second draft goes to his First Reader, his wife Danya.
He says he tends to overwrite (possibly because he's a pantser rather than an outliner) and after his wife read The Fourth Monkey, he cut his 179,000-word draft by 30,000 words.
A third draft incorporates her suggestions and is sent to 5-10 beta readers. A fourth draft incorporates suggestions from those beta readers and is sent to a professional copy editor who makes final corrections on grammar and punctuation. He then writes the final/fifth draft which is sent to his agent and publisher.
"I know it's done when I'm doing nothing but shuffling commas around," he says.
  Invest $$$ In Your Work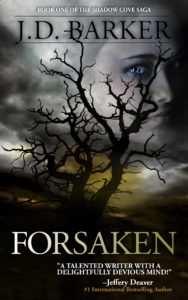 "To stand out from the crowd, you need to put your novel through the same hoops as the traditional publishers put their books through," he says.  According to J.D. that means hiring the best book cover artist/designer that you can afford. Ditto for a professional copy editor,  and for a formatting editor and for publicists. J.D. tells me he spent $12,000 for the help of professionals in self-publishing Forsaken.
He also invested financially in producing his novel in different formats: audio, hardcover, paperback as well as in e-book form. "I think it's telling to see what other formats self-published authors publish in. It shows how much time and money an author has spent, and it tells me if an author is standing behind his/her work.  It separates authors on Amazon." He says he now invests about 10% of his net revenue in promoting his books.
Book Bloggers Rule
When it came to creating "buzz" J.D. knew that getting reviews of, and news stories about, his novel Forsaken was crucial. He hired two publicists, one to get him and his novel in front of book editors at newspapers and magazines,and one for social media promotion. One of the publicists was a friend; he paid the other per published review. He also hired a New York P.R. firm for $1,500 a month.
"You have to be willing to spend money on ARCs (advanced review copies)," he says. "I did this backwards. I printed 1000 arc copies after I published Forsaken Of course, these should have gone out before publication." He adds that the reviews in newspapers didn't sell as many books as reviews by book bloggers. "Book bloggers sell books. You must query them first, and you have to make sure you are querying bloggers in your genre."
J.D. also queried authors, including New York Times bestselling authors. He wrote letters to his favorites, including Jeffery Deaver, asking for reviews which are posted on his website. "I reached authors on my own. I'm still doing quite a bit of my own where I see holes in my publisher's marketing plan."
J.D. adds that he will not pay for reviews. "As a reader, paid reviews hold no value for me, and I feel many of those services take advantage of authors willing to pay."
Most Efficient Social Media
J.D. promoted his first novel through the usual giveaways on Amazon as well as promotions through Net Galley and BookBub. "I typically discount a title for two weeks and try to get on a BookBub-like service for each day of those two weeks."  He also has a presence and a blog on  Goodreads, the social media site for book lovers. In February 2015, he posed this question on his blog: "Want to be in the Paperback Edition of Forsaken?" It was a call to reviewers who wanted their reviews to appear in the opening pages of the paperback. That post got 65 hits — about double the hits J.D. was getting back then on his Goodreads blog.
However, he claims that Twitter is the only social media platform with which he has a comfort level  He says, "You only need to come up with 140 characters for a tweet, so you can use it whenever you have a spare moment.
J.D. used Twitter to promote Forsaken, among other events, as a freebie on instafreebie.com ( a new service he is currently testing); to tweet that Forsaken had become a "recommended listen by Audible staff"; when Forsaken became available to read for free on Kindle Unlimited; and he tweeted thanks to his narrator for a narration "that took Forsaken to the bestseller list."
He uses Twitter ( @jdbarker) on a daily basis to promote his current bestseller, #The Fourth Monkey.
 Get A Dog (Or Two)
This final tip comes from me rather than J.D. — and is based on the humongous number of "likes" he gets for his tweets whenever he posts photos of one of his dogs. Animals rule on Twitter — but so do photos of chocolate chip cookies baked to celebrate the release of your latest thriller!!
Photo Credits; top photo bigsockphoto.com; all other photos danyajungphotography