It's Squib Saturday. Time to share the best, most interesting (or most entertaining, or most outrageous) tidbit of information I've gleaned from all the stuff I've read –or done. This week: Writing Tips & Other Fascinating Facts from Bestselling Authors at The Palm Beach Book Festival.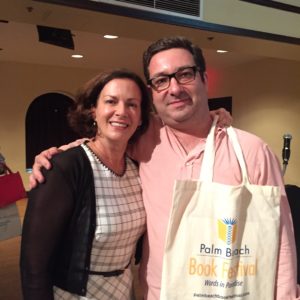 For the third annual Palm Beach Book Festival, founder and creative director Lois Cahall brought together more than a dozen authors and moderators for two days of talk just about books. The first day served an audience of school kids, teachers and librarians. The second day at the Harriet Himmel Theatre in City Place, West Palm Beach attracted aspiring writers, readers and fans intent on hearing bestselling and award-winning authors talk about the craft, their latest works, and to answer questions from the audience.
Pictured here with her husband Matt Burditt, Lois is a novelist, film critic and journalist. On the Festival website, she states one of the reasons she started the festival was to "bridge the gap between the NYC publishing world and Florida's untapped talent. There's a lot of voices here. There's also a next generation of writers." So here's what one of those writers (me) learned from the assembled greats:
Indispensable Tools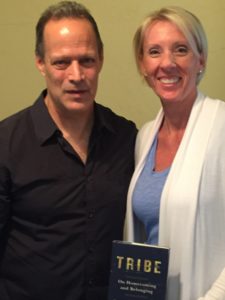 It's difficult these days to imagine writing without access to a computer or wifi or apps like Evernote. Unless you're Sebastian Junger. The author of The Perfect Storm, and more recently Tribe, shows why you  don't really need a laptop or Scrivener software or Dropbox to produce award-winning books. Junger (pictured with Cathy Helowicz, executive director of the Palm Beach Writers Group) didn't have ready access to electrical outlets when he spent time with the 173rd Airborne in Afghanistan for his books, Fire and War. So, with nowhere to plug in chargers for a laptop or ipad, he used good, old-fashioned pens and notebooks to write at the platoon's outpost. He then taped his notebooks to his body when travelling with the platoon to make sure his notes made it back home safely — a horrifying thought for those of us who can't write paragraph without saving or backing it up a dozen times over.
Research is Key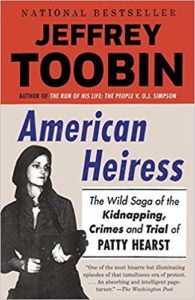 As I learned from story guru Robert McKee (at a three-day seminar which I've written about previously) research is what makes a story great. McKee says, "research allows you to become the god of the world you are writing about."   It's obviously even more important for writers of non-fiction. While Jeffrey Toobin actually lived through the trial of O.J. Simpson,  and his own reporting became the basis for his bestselling book, Run For His Life, that wasn't the case with his latest bestseller American Heiress. He was barely a teenager when Patty Hearst was kidnapped by the left-wing terrorist group, the Symbionese Liberation Army so every detail for the book was a matter of assiduous research. "Nothing's been written about her for 30 years," he said. In a humorous aside, Toobin told Festival attendees,"if  you tell people today that Hearst was on the cover of Newsweek seven times, they'll say, what's Newsweek? What's a cover?"
Plotters or Pantsters?

Like James Patterson, the Festival's honorary chairman (and super nice guy, as I wrote last week),  fellow Festival author Amor Towles ( A Gentleman in Moscow) believes in creating an outline first. Boy, does he ever!  Towles said he spends one to two years working on his outlines.  "I outline very carefully before I start chapter one." Likewise, Patterson told the audience that he writes a 50-70 page, chapter by chapter outline for all of his books. Since both Towles and Patterson are bestselling authors, this advice might be worth heeding by those aspiring writers who say they write "by the seat of their pants," meaning they start each chapter without really knowing where they're headed.
Memoir or Autobiography?

On the difference between memoir and autobiography, Dani Shapiro, author of   a new memoir, Hourglass, remarked that, in a memoir a writer has to transcend his or her particular circumstances to tell a story in which others will recognize their own experiences.  With memoirs, she said, you'll get readers saying "we could be sisters" or "wow, we've lived the same life." In autobiographies, she said, "the relationship between reader and writer is different." The writer needs to put in the "kitchen sink" because readers wants to know everything about you.
Collaboration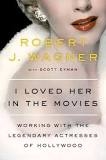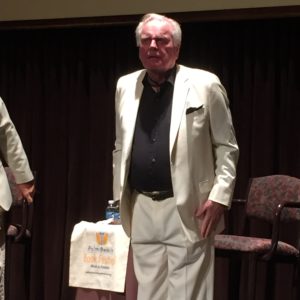 These days when everyone has a blog, and anyone with a laptop can self-publish, it's almost refreshing to come across someone like movie and TV star, Robert (R.J.) Wagner  who is happy to leave writing to a professional  His latest book, I Loved Her in the Movies, is his third collaborative effort with Hollywood historian, Scott Eyman. He said he wanted to work with Eyman  after reading his biography about Hollywood titan, Louis B. Mayer, The Lion of Hollywood. Wagner told the audience he asked a mutual friend to introduce him to Eyman. The latest book is subtitled Memories of Hollywood's Legendary Actresses and includes his recollections of Norma Shearer, Bette Davis and Marilyn Monroe who, he said, used to "stop by" the house he shared with then-wife, Natalie Wood when they "left the light on."  Wagner recalled that Marilyn "enjoyed being in an atmosphere that was real."
Not Just Writing Tips
Discussions between authors and moderators (Vanity Fair correspondent, James Wolcott,  New Yorker staff writer, Patricia Marx  and Leigh Haber, books editor for Oprah Magazine) didn't just focus on writing advice. Anecdotes and gossip were plentiful, too. Leslie Bennetts, talking about her biography of Joan Rivers, Last Girl Before Freeway, said that she discovered that the late TV star loved the tabloids like the National Enquirer and The Star.
Separating Fact from Fiction

Bennetts said that, at various times Joan Rivers claimed in those publications to have slept with Robert Mitchum. She would then reportedly call  a friend to ask if Mitchum was still alive. In the same way, she claimed to have slept with Johnny Carson. "How do you think I got on the [Tonight] show?" she is reported to have asked.  "It was a certain amount of work to separate fact from fiction in Joan's life," said Bennetts .
Likewise for Gerri Hirshey, whose research for her biography of Helen Gurley Brown, the most famous editor of Cosmopolitan magazine included Brown's claim that she had 179 lovers. "She was much more of a feminist than anyone thought she was," added Hirshey.

Joan Juliet Buck, a former editor-in-chief of Paris Vogue, and author of her memoir, The Price of Illusion spoke about photos being the best for jogging memory. Buck who is the daughter of a Hollywood movie producer grew up with the daughters of film director, John Huston. She said she ran parts of her memoir past Anjelica and Allegra, and there were passages where they said "that didn't happen." I found out that "the stories I had told myself weren't true, so I had to go beyond that. It took me six years to write the book."
Photo Credits: author photos of Dani Shapiro and Joan Juliet Buck courtesy of Palm Beach Book Festival program