It's News Squib Saturday, but I'm going Behind the Scenes today because Book3 is very much on my mind. Thank goodness, I am getting back on track after a few disconcerting weeks which I wrote about a couple of Saturdays ago. Looking over some photos I took last year when I was researching locations reminded me of the work I've already done on the book.
It also helped to have a bit of a nudge from bestselling author James Patterson. He delivers a MasterClass (a series of 22 instructional videos) which any aspiring author or even a well-established author can download for a mere $90. The class looks at all aspects of writing a bestseller including how to find ideas, how to plot, write outlines and so on.  One of the tutorials focuses on researching locations like I did one day last Summer on the North Fork of Long Island. Part of Book3 takes place on the North Fork which is more secluded and remote (so far) and more rugged than the South Fork (better known as the Hamptons.) As Patterson says, " It's really useful to walk around a location and make notes about whatever catches your eye."
On Foot
Of course, these days it's super easy to find whatever information you need about any location by clicking on Google Earth or Google Street View, or by googling the name of a city or town or region. Or even by googling specific needs for your novel. For example "punk rock clubs, Warsaw."
But, back when I wrote my first two thrillers, I had to do all my location research  "on foot" so to speak. I used to love it. I still do. There's always something you'll see that will give your book that extra touch of realism.  As Patterson says, "If we actually go to a place, we'll remember a few details that capture it."
When I think of the North Fork of Long Island, I think of vineyards, farmstands, marinas, and quiet little beaches — which is perfect because in Book3, my heroine is married to the owner of a bed- and- breakfast with a marina. On the South Shore of the North Fork, the views from various marinas are across Peconic Bay, and in some spots you can see all the way to Shelter Island, (as pictured here.)
Looking for a Boat
My heroine's husband also owns a couple of  boats. So, setting out on my location hunt, I cajoled my husband into coming with me. "Let's go and look for a boat," I said. His face lit up. My husband loves boats, particularly sailboats. "Sorry, " I said. "I need to find a power boat — something my heroine's husband can take to Meschutt Beach ( in Hampton Bays, at the other end of Peconic Bay) when he wants to get there in a hurry."  I found the one, pictured here.  It's a Carver  35 Super Sport. I liked the look of it sitting in the water, but I had to Google it to make sure it could do the job. Turns out there's two cabins and one head (that's a bathroom/shower) a galley (kitchen)  and decent sitting area inside and out. The Super Sport also has twin Crusader engines with 320hp engine power which means, I'm told, it would take about 45 minutes to get to Meschutt Beach from the eastern end of the North Fork.
And Some Secluded Spots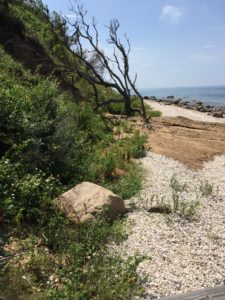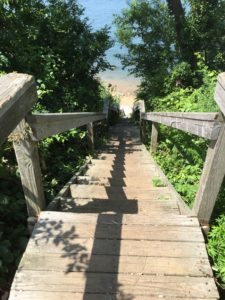 Last on my list of locations were some secluded spots where my heroine and her husband can go for a moonlit romantic interlude — or two.  Unlike in the more popular and crowded Hamptons on the South Fork, there are plenty of such spots on the North Fork: Quiet, little beaches where the water from Peconic Bay or the Long Island Sound  laps over shingle and sand. I love one location in particular: the beach at the bottom of the Horton Point Lighthouse steps (pictured.) There are 116 steps. I figure only the most amorous and/or adventurous couple will venture down to the beach below.