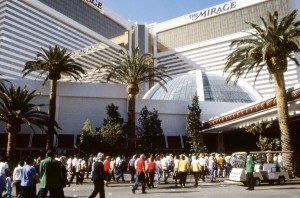 It was 1991. If memory serves correctly, it was March of that year when my husband, Joe and I won $28,000 in one night of playing blackjack at the Mirage in Las Vegas. I had just started writing my first novel, Scandal because "isn't that what you've always dreamed about doing?" my husband had asked pointedly as I rattled around our new Boca Raton mansion. It was the first time in my journalistic career I was without a regular staff writing job, having quit my associate editor position with TV Guide to move with my husband and son, Danny to Boca.
Not Writing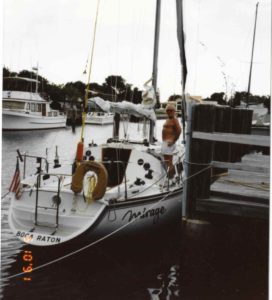 And why am I remembering this now? Because it's a day for reminiscing about the good times I've had with Joe who is 81 today. Yep. Another birthday. It seems like it was only a short while ago we were celebrating his 80th. Back then, I wrote on this blog that the days when he would sail singlehandedly off the Florida coast were a distant memory, and I mentioned in passing that our boat was named the Mirage after the casino in Vegas where we won the money to buy it. So, this year here is the rest of the story :
One of the reasons it took me about five years to get Scandal published was because back in those days Joe travelled frequently to work-related conventions– and I travelled with him to fun places like Vegas, Atlantic City, the Bahamas, and Monte Carlo. See the common link? Yep, exotic, hot — and all of them, gambling meccas (even our not-so-hot Helsinki convention hotel offered Finnish blackjack : no doubling down, and dealer takes all pushes!!!)
And Tigers, Oh My!
The Mirage had barely opened in Vegas when Joe and I descended on the place with our three year old son in tow.  Danny insisted on coming after seeing photos of Siegfried & Roy and their amazing showcase act with tigers. The way I recall it, we started our "winning" evening with dinner in one of the hotel restaurants. (Danny's recollection is that we were in such a hurry to get to the tables after Siegfried and Roy's show that we asked a passing cocktail waitress to take him back to our room to  baby-sit. In truth, that was a different evening — and she wasn't a cocktail waitress but a former "showgirl" who was employed by the hotel as a licensed babysitter!!)
Cocktails With Owner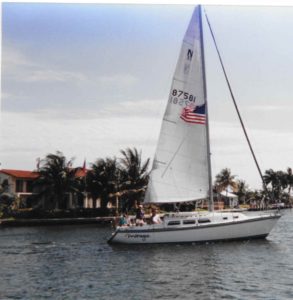 At dinner, we were joined for about five minutes by Steve Wynn, the owner of the new hotel and casino who was nursing his cocktail with a hand wrapped in bandages. He told us he had shot through his fingers while playing around with his guns. We considered it a good omen (cocktails with the owner, not the shot fingers!) and moved to the tables, starting at a $2 table meaning that placing $2 on one bet was acceptable as opposed to other tables that required higher bets.
Winning Strategies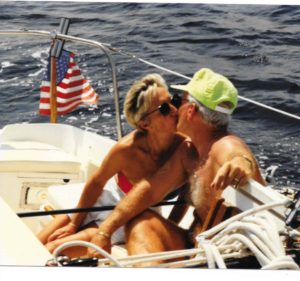 Let me say that Joe and I love playing blackjack (otherwise known as 21) and we have a system that works — some of the time — for playing and for betting. By which I mean, we adhere strictly to somewhat tried and tested rules which take into account that dealers have no discretion in their play but must stay on 17, and deal themselves another card if they have 16. We also adhere strictly to a 1-3-2-5 betting strategy (key phrase here: "adhere strictly.") This was Joe's idea: say you start with $10 and have a winning hand, you then bet $30. If you win that hand, you bet just $20. If you win again, you bet $50. Any time you lose on a hand, you return to betting $10 which theoretically means that most of the time, after the first couple of hands, you're gambling with the casino's money.
Salmon Chips ?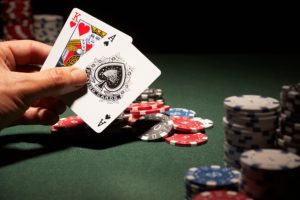 Joe and I started by cashing in $100 each for chips. A couple of hours into the playing, we found ourselves alone at the table, playing all seven hands between the two of us, in $100 units  — and no "bugging out" allowed at times when we had to up our bets to $500 (for a bad hand!) even if that applied to three or four different hands at the same time.
At one point, on my way to the ladies' room, I scooped up all our winning chips, and cashed them in, and brought the dollars back, placing them in front of Joe on the table.
"Where did you get all that?" Joe asked me, eyeing the pile suspiciously. "You know those salmon colored chips? Well, it turns out they were $500 a piece, and we had about eight of those…" The pile of cash was our first $5000.
The only other event I recall was getting paged for a phone call. It was Danny's babysitter. "Everything's fine," she said immediately I picked up the phone. "I just wanted to remind you that you promised Danny you'd bring something back for him."
 Nine Lost Hours
"What time is it?" I asked, figuring that she was telling me politely that she was ready to clock out. "It's 5," she said.
"Five?"  I thought. "It can't be five. We didn't finish dinner till 7.30." And, then it dawned on me. We had been playing, at the tables for more than nine hours!  We had won $28,000 between us by the time we left the casino, escorted to our room as a courtesy by hotel security. And yes, we brought a gift for Danny; a big, big tip for his babysitter — and when we returned to Boca, Joe bought the sail boat he wanted, a 34-foot Newport.
Trademark Infringement?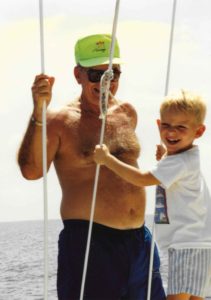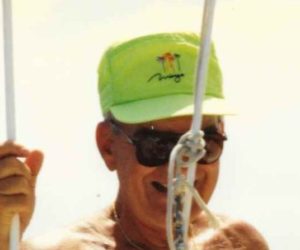 We named it Mirage, and had the name painted onto the boat in the same font and style as the hotel-casino used. Joe also had baseball caps printed with the name and logo of the Mirage hotel (see photo.) Of course, that was many years before I became an attorney: So, what trademark infringement?
I doubt Steve Wynn would have cared about the use of his trademark multi-colored palm trees and name on our caps. They always prompted questions from other boaters, and therefore we were always telling our story about how we had won the money to buy the boat. And, casinos — believe it or not– love winners because winners attract more gamblers, most of whom then tend to lose.
To the biggest winner I know: Happy 81st Birthday, Joe.
Photo Credits include: Las Vegas News Bureau