It's Squib Saturday. Time to share the best, most interesting (or most entertaining, or most outrageous) tidbit of information I've gleaned from all the stuff I've read this week. Today: Watch Out Big Pharma, You're Going the Way of Big Tobacco
It's about time, and better late than never:  Suffolk County (the one that covers the easternmost end of Long Island where I live) has put eleven big pharmaceutical companies in its crosshairs. It is suing the opioid manufacturers for, among other things, fraudulent and misleading marketing to promote the use of painkillers like OxyContin and Percocet. The biggest of the pharmas is Purdue Pharma L.P., which manufacturers OxyContin,  an "opium-like painkiller" which is "highly addictive and dangerous."
Blockbuster Sales & Profits
The lawsuit, filed in New York State Supreme Court, alleges that the pharmaceutical companies knew — but deliberately manipulated information– that "opioids are too addictive and too debilitating for long-term use" especially when they are used to treat such common aches as lower back pain, arthritis and headaches.
The lawsuit further alleges that "[d]efendants recognized that if they could sell opioids […] for long-term chronic pain relief they could achieve blockbuster levels of sales and profits." To do so, however "[d]efendants knew […] they would need to convince doctors and patients that long-term opioid therapy was safe and effective."
This Is How It Started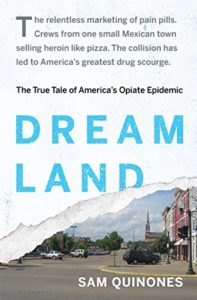 To divert here slightly from the lawsuit: The way in which pharmaceutical companies set out to convince doctors that opiates were safe and effective is a story that beggars the imagination. It is laid out in exquisite detail in one of the best books I've read on the subject, Dreamland, The True Tale of America's Opiate Epidemic, by Sam Quinones, a Los Angeles journalist.
In the book, Quinones presents it thus:
In 1980, a Boston doctor, Dr. Jicks, published a paragraph-long letter in the New England Journal of Medicine.  He had accessed a hospital database which held the records of 300,000 patients. In the one-paragraph letter, there was one sentence which stated that "of almost 12,000 patients treated with opiates while in the hospital before 1979 […] only four had grown addicted."
This, according to Dreamland, became incorporated into another study where it was cited as a footnote to support a contention that less than 1% of patients treated with narcotics developed addictions. As Quinones writes: "The less -than- 1% statistic stuck, but the crucial point was lost: The Jicks database consisted of hospitalized patients from years when opiates were strictly controlled in hospitals and given in tiny doses to those suffering the most acute pain. "
One Paragraph
Indeed. Like those suffering from terminal cancer who were given opiates for end-of-life, palliative care. Of course, they did not become addicted . They died before they could become addicted. As Quinones notes: "They were not chronic -pain patients going home with bottles of pain pills."
Yet this paragraph "was mentioned, lectured on and cited until it emerged transformed into […] a landmark report." In 1990, a researcher writing in the Scientific American  described the Jicks letter as "an extensive study."
Something Off
So how about it? You are a doctor, and now there's a study being cited to show that opiates are not addictive. And, Big Pharma is quoting this study which flies in the face of everything you've been taught about the addictive properties of opioids.  Really? Opiates? Think opium. Poppy seedpods. What?  Not addictive? You surely don't even need a medical degree to know that something is a little off here.
But why argue?  As Quinones writes: "To actually look up [the study], to discover that it was a one-paragraph letter to the editor, and not a scientific study required going into a medical school library and digging up the actual issue which took time."
Destruction, Death  & Heartbreak
Opioid abuse includes subsequent descent into heroin use and addiction because heroin is cheaper than prescription drugs, and the heroin dealers are standing right outside the pain management clinics where prescriptions for opiates are doled out. Opioid abuse is now recognized  as a "public health crisis" in this country.
But it's actually so much more than that for most of us.  I'll wager there is not a parent in Suffolk County who does not know -or know of- at least one child that has succumbed to opiate or heroin addiction, and who is either in and out of rehab, in jail — or dead.
Quite right that Suffolk County is going after the pharmaceutical companies — and the most duplicitous doctors — to make them pay for the damage, death, destruction and heartbreak they have unapologetically wrought.
Credit top photo: Bigstockphoto.com
If you liked this News Squib, please let me know.  All you have to do is click on the Like button below.