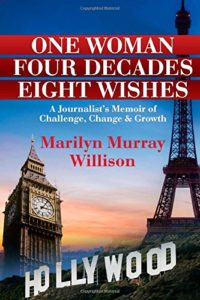 I just finished reading Marilyn Murray Willison's nifty memoir titled, "One Woman, Four Decades, Eight Wishes."  I met Marilyn, a fellow author-journalist a couple of weeks ago at a lunch of the Palm Beach Writers' Group.  Author Cathy Helowicz, who organized the lunch at the Pavilion Room in the Chesterfield Hotel, introduced us because she thought we'd find a lot in common. She was right.
Marilyn had brought some bookmarks (shown left) promoting her new book. So, the first question I asked was why the bookmark showed Big Ben (the nickname for the iconic bell in the clock tower which hovers over the Houses of Parliament in London.)  She replied that she had worked in London as a journalist in the 80s.
She added that Sir David English had persuaded her to move from Los Angeles to London to work for him as a reporter when she was a single mother of two young boys.  I'm not sure if she expected me to know the name, but of course, as a one-time Brit reporter, I immediately recognized it: For two decades, Sir David English was the brilliant editor of the London Daily Mail.
"When were you there?" I asked.  Marilyn replied she had worked at Northcliffe House in the mid 80s.
Small, small world:  Northcliffe House was also the home of the Daily Mail's sister paper, the London Evening News where I worked as an investigative journalist in the late 70s.  So, although several years separated our work experiences we both instantly remembered the building, a block off Fleet Street, and the imposing, sweeping staircase that led from the lobby of Northcliffe House to our offices. We also both remembered Scribes Cellar, a famous, maybe I should say notorious, members-only hangout for journos and editors and barristers, located just around the corner from our offices.  Talk about instant bonding!
Naturally, I raced through Marilyn's memoir as soon as I could download the kindle edition. Unlike traditional memoirs that follow a chronological path, Marilyn writes about her life as a journalist-author, and single mother of two boys, through the prism of eight attributes or goals that were on her wish list growing up.
On the eve of her 65th birthday, Marilyn set out to examine how events and experiences in her life had altered and transformed her wish list of being Healthy, Beautiful, Loved, Enlightened, Happy, Famous, Rich and Thin, and how her perspective has changed about those goals. It is also the story of how she has met the challenge of living with multiple sclerosis for the last three decades.  She describes the book as being a "woman's modern-day survival story."
Being the memoir of a journalist, the book contains many gossipy tidbits.  For example Marilyn describes having dinner with the Queen of England on board the Royal Yacht Britannia, and how actress Audrey Hepburn pushed her in a borrowed wheelchair to the lobby of the hotel where Marilyn had interviewed the gorgeous movie star.  The book was a delightful read especially when I realized we had more in common than just working on London's Fleet Street including the fact that we were both educated by Catholic nuns, had both survived "ego-bruising childhoods,"  and that, at different times, we had both interviewed Paul McCartney.