As I write this blog, Irma, Category 5 monster hurricane, is barrelling toward South Florida. Anyone in South Florida who was living there 25 years ago, like I was, no doubt has spent the last few days telling war stories about how they survived Hurricane Andrew — the last Category 5 hurricane to hit the US mainland — in August 1992. Andrew made landfall in Homestead, and devastated the area.
 Cats disappeared
Back then, I was living in Boca Raton with my husband Joe, and our son Danny who was four years old at the time. Staying with us that summer was Joe's granddaughter Heather, aged six, and my mother and stepfather. Joining us when they were evacuated from their Delray Beach home on the Intracoastal were our best friends, Phil and Shirley Bunton with their two mutts, Honey and Benji. Their cats Squeaky and Mr. T. took off at the first growl of thunder, and did not return till several days after the hurricane moved on.
Waiting For Andrew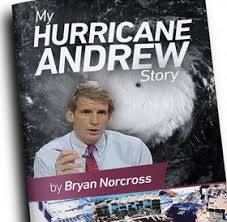 We had no idea what was coming, or what it would look like. We were five miles inland. We'd heard that hurricanes run out of steam once they make landfall. Other than that, we had no idea what to expect. The Weather Channel's hurricane specialist, Bryan Norcross cut his teeth on Andrew. He was on a Miami TV news station back then telling us to fill our bathtubs with water for the flushing of toilets when the power went out; to throw our outside furniture into the pool, and to tape our windows and sliding glass doors with duct tape in the shape of an X so that glass wouldn't go flying all over the room if something crashed through the window.
We made makeshift beds for the kids in the only windowless area of the house, and then the adults sat down to listen to the pounding rain, and howling wind, and to party.
Devastation of Andrew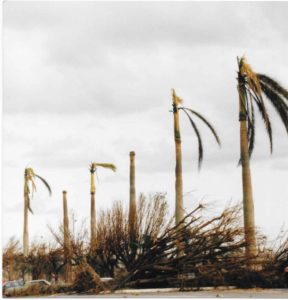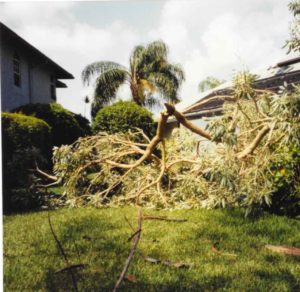 Hurricane Andrew made landfall near Homestead, 80 miles from Boca, with winds of up to 165 mph. It caused  approximately 65 deaths, and $25 billion dollars worth of damage. It destroyed more than 60,000 homes, and left only 9 mobile homes standing in Homestead. Outside our backdoor a huge tree fell. Nothing compared to the devastation we began to see on a TV set we hooked up in the kitchen with rabbit ears.
Joe Takes Up A Collection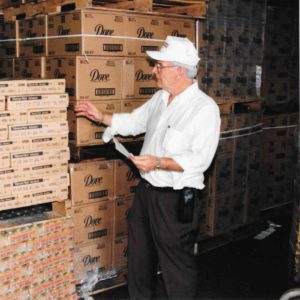 With two kids in our home, my husband Joe's first thought was for all the children and young families left without roofs over their head, or food or water — or, worst of all — diapers. At the office the next day, as   Chairman of Globe Magazine, he organized a collection among his staff. Our friend, Phil, then Editor-in-Chief of the magazine, organized a similar collection among his editorial staff. Both Joe and Phil individually matched the collections from their departments, and then asked the owner of the magazine to match the total collected, which he did.
 Joe Rolls Up His Sleeves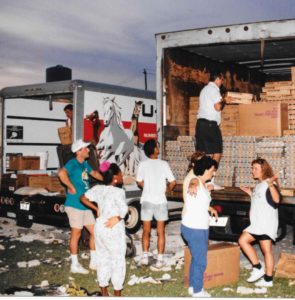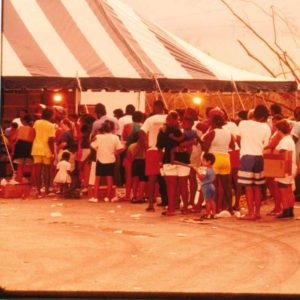 Today, neither Joe nor Phil can recall exactly how much money was raised, but agree it could have been around $50,000. Joe then contacted the local magazine wholesaler, also a friend, for the loan of one of his trucks. Through his connections with the Winn-Dixie supermarket chain, he arranged a deal with the supermarket to buy infant formula, diapers, water and baby food at cost. With the help of other Globe magazine employees, he  loaded up the truck and set off to reach Homestead before the curfew.
Recently, when Hurricane Harvey devastated Texas, we received an email from Phil. He wrote, with hyperbolic flair:  "Reading all about the Texas hurricane reminded me of Joe's superb work sending an army of trucks into Hurricane Andrew. That was a great move. I've always admired Joe for that."
Me too, Phil. Me, too.
Photo Credits: Scott McKiernan