It's Squib Saturday. Time to share the best, most interesting (or most entertaining, or most outrageous) tidbit of information I've gleaned from all the stuff I've read –or done. This week: When the Season Shuts Down.
In the grand scheme of things, Palm Beach is a tiny speck on the map of the U.S. It's a barrier island, about 16 miles long, and lies between the Intracoastal Waterway and the Atlantic Ocean in South Florida. The year-round population of the island numbers approximately 8,500. That number swells to about 30,000 in the winter months, when average temperatures are between 75 – 85 degrees fahrenheit.

Snowbirds arrive from the North in November, and generally stay till April. Others hop back and forth for long weekends or weeks at a time escaping the cold winter weather in the North.  In season, Palm Beach is like summer camp (except when Donald Trump visits his Southern White House at Mar-a-Lago, and ties up traffic throughout the island.) These are some of the highlights of a Florida winter :
Literary Lunches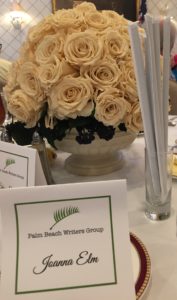 The Palm Beach Writers Group is a terrific support group that gathers for literary lunches at the Chesterfield Hotel once a month in season. Its executive director, author Cathy Helowicz organizes book signings for authors in the group and books guest speakers like thriller writer, Andrew Gross who spoke about what he learned when he was a co-author for bestselling novelist, James Patterson.
The last lunch of the season featured Lisa Marzano, Professor of English and Director of Writing Programs at Palm Beach Atlantic University, addressed the topic of developing our writer skills. The best writing warm-up tip she offered for writers battling "wordiness" was  to simply re-type some passages from an author like Ernest Hemingway to "get a feel for what it's like to write in a short, sparse, staccato style."  However, she warned, "don't put your name on it."
Fabulous Food
Per square mile, Palm Beach probably has more restaurants than any other city in the country. However, my husband and I are creatures of habit, and we tend to stick to the same places when we eat out: Lunch favorites are the Beach Club or the newly-renovated Seafood Bar (the only oceanfront restaurant, open to the public, on the island) at the Breakers, or Ta-boo, an iconic landmark restaurant on Worth Avenue where the food is terrific, the prices very reasonable — and the people-watching even better. We did have a nice lunch once at Trump's private club, Mar-a-Lago when I played in a tennis match there (way before Trump announced he was running for president.) So, we were surprised recently to read that the kitchens at the President's club (where the membership initiation fee has now been doubled to $200,000) were hit with 13 health violations.
Pristine Pools…
… And great golf courses, and tennis courts all add to the feeling that the island is just one, big "summer" camp.  The Palm Beach par 3 course is a public, town-owned facility, and despite its name is a challenging little course sandwiched as it is between the ocean and the Intracoastal. It's where I lose all my golf balls!
All the pools in Florida (including the fabulous Breakers lap pool)  seem to be maintained at a temperature of 86 degrees. I think that's a little on the warm side — and why I look forward to diving into my own pool when it opens mid-May at a temperature of 72 degrees!!!! Okay, just kidding, I'll probably wait till it warms up to about 78 degrees!
Gourmet Groceries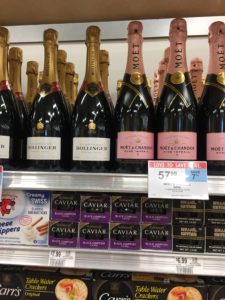 Is there a supermarket anywhere in the country that sells Dom Perignon champagne?  Publix on Palm Beach does (occasionally along with caviar.) And, there it was last week, sitting alongside a display of Snickers bars (left/above)!!!  What the Publix in Palm Beach does not carry, however,  is the "low-cost, yellow-packaged" Tide detergent, an omission I wrote about in an earlier blog.
Publix, in fact, is a terrific supermarket chain throughout Florida. Of course, not every location sells champagne or caviar, but each one does have the best fruit and vegetables on offer anywhere in the state. In New York, fresh produce is best bought from local farmstands. In Florida, green markets are popular, but it's this supermarket chain that reportedly scoops up the state's very best farm produce (and everyone knows that Florida is a fruit -and -veg-growing paradise) before anyone else gets their hands on it.
If you enjoyed reading this squib, please click on the like button and/or go to my Welcome page to sign up for an automatic email delivery of my weekly posts.