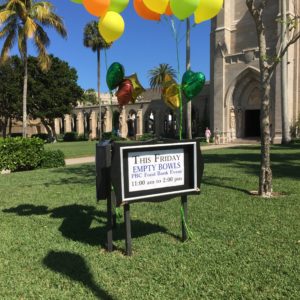 It's Squib Saturday. Time to share the best, most interesting (or most entertaining, or most outrageous) tidbit of information I've gleaned from all the stuff I've read –or done– this week: Top Palm Beach Restaurants Provide Soup for Empty Bowls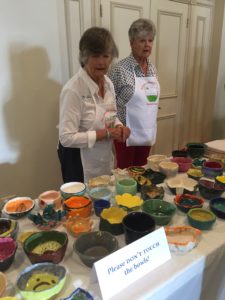 Imagine that you hand over just $25, and then go to eat a bowl of soup at every best, exclusive restaurant in town  — for no further cost.   Well, that's more or less the idea behind the Empty Bowls annual fundraiser in Palm Beach — a town that has more exclusive restaurants per square mile than probably any other town in America.  Except that, once you arrive at Bethesda-by-the-Sea Episcopal Church to pick up your handmade ceramic bowl, you find that all the restaurants have brought their most delicious soups to you.
Fighting Hunger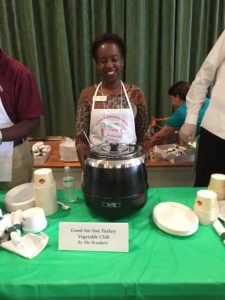 Top Palm Beach restaurants including BrickTops, Buccan,  Cafe Boulud , Cucina Dell'arte, Nick and Johnnie's, Ta-boo and Palm Beach Grill served up steaming pots of their signature soups yesterday for residents who attended the fundraiser to benefit the hungry through the Palm Beach County Food Bank (www.pbcfoodbank.org )  The food bank collects millions of pounds of food a year from farmers, wholesalers and retailers. It then supplies more than 100 local agencies including homeless shelters, soup kitchens, food pantries and after-school programs throughout the county. Up to 55% of the distributed food is fresh produce.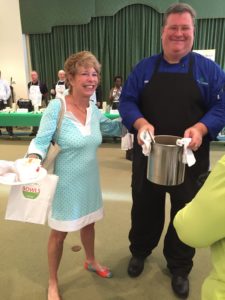 Also among the more than two dozen restaurants were Bice Ristorante which served up its world famous Pasta e Fagioli Alla Toscana soup. The Breakers Hotel served its popular Good-for-You Turkey Vegetable Chili; Renato's brought Corn Chowder; the Sailfish Club offered Beef Barley; The Beach Club served up its Red Curry Roasted Butternut Squash soup,   and the Joshua Catering Company from the Lord's Place, an organization aiding the homeless of Palm Beach County came with Turkey Soup with Cornbread Stuffing Dumplings.
A Recipe for Empty Bowls At Home
Typically, the event raises more than $50,000, and this year attracted just under 1,000 donors who either ate at the event, or placed take-out orders.
Testa's, one of the oldest and most popular Palm Beach restaurants kindly provided me with an easy, make-at-home version of its recipe for its delicious minestrone soup.  Note, it can be prepared even in the winter-stricken North where fresh local produce may be in short supply right now. Here it is:
Testa's Minestrone Soup
Ingredients you will need (and the brands I used for my homemade version):
1 can of Vegetable Garden Soup ( I used 19 0z. Progresso Vegetable of Vegetable Classics)
1 can of Beef Broth (14.5 oz Swanson 100% fat free, less sodium)
1 can of spaghetti sauce (24oz Hunts 100% Natural Pasta Sauce )
1 can each of cannellini beans and chickpeas (Cento, Goya)
1 TBS Maggi seasoning (I used Kitchen Bouquet)
I cup shell pasta
3 cups mixed green salad
1/2 cup garlic
Oregano
Slice and saute garlic
Mix it with all the other above ingredients in pot, bring to boil, then simmer covered, on low heat for 45-60 minutes.
If soup is too thick, and needs thinning, add some water or more broth.
Bon Appetit!