It's Squib Saturday. But today I'm going Behind the Scenes which is my website page where I write about the progress of my third novel. This week I take a look at a Writers Boot Camp for which I signed up a couple of weeks ago. The title of the Boot Camp was Agent One-on-One : The First Ten Pages.
Online Writers Boot Camp
When I heard that literary agent Paula Munier was running an online writers boot camp, I signed up sight unseen. I had met Paula several months before at the Algonkian Author-Mentor Novel Workshop in St. Augustine, Florida. In my review of the workshop, I described Paula as a "walking encyclopedia"  of the traditional publishing business. Specifically, her insights focussed on the writing of genre fiction and commercial best sellers.  None of the writers attending the workshop was interested in self-publishing. We understood that writing for the commercial market meant adhering to the conventions of one's chosen genre.
Similarly, the Boot Camp, titled Agent One -on -One : The First Ten Pages, was for writers who are aiming to submit their manuscripts to traditional publishers.  It was offered by the Writers Digest University. For $199, it gave writers the opportunity to have their work reviewed by professional literary agents. That is, it gave writers the opportunity to send their first ten pages  (first 2,500 words ) — without a query letter — to one of three literary agents at the Talcott Notch Literary Agency.   The Boot Camp also included two audio tutorials (providing participants with a checklist of do's and don'ts  for their first 10 pages),  a  three–hour discussion period with the agents, and the opportunity to re-submit a revised version of the ten pages after individual feedback from the agents.
Ten Pages Only
Why only ten pages? Because, as Paula Munier explained in her 60-minute online video tutorial which kicked off the Boot Camp on a Thursday morning: You have ten pages, at best, to grab the attention of any reader — whether that reader is a literary agent, or an editor of  a publishing house. In most cases, you have only the first page, and/or the first line to grab that attention. Literary agents and acquisitions editors at the traditional publishing houses receive so many queries and manuscripts, they usually have time to read only the first couple of pages. The same generally applies to readers who might buy your novel — especially if they buy online for a Kindle. Amazon offers a "Look Inside" feature where you can read the first couple of pages before deciding whether to shell out $9.99 for the novel.
Pointers for Story Openings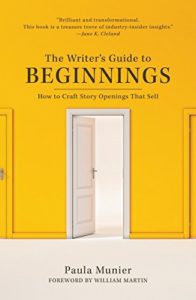 As Paula said in the first tutorial of the Boot Camp: "I want to know from the first page that I'm in for a good ride." That means, she said, "something MUST happen in the first ten pages." Those first pages also need to show,  a strong voice, and characters that make her feel something.  She added: " I don't look at synopses — even great writers aren't always good at synopses– but the first ten pages will show me if I can sell the story."
In her tutorial, Paula emphasized that one of the factors that keeps her reading is when the "level of craft is high." She said: "I can help fix a plot. I can't fix lack of craft." Prose MUST be clear, clean and concise. Before submitting the first ten pages, she advised writers to "clean up overwriting, cliches, weak verbs, and POV changes in a chapter. "
"The most efficient and effective way to begin a story is with a scene," she said. In her book, The Writer's Guide To Beginnings: How To Craft Story Openings, she expounds, "writing in scenes is the best way to ensure that something happens. A well-written opening scene establishes genre; moves the plot forward; highlights voice; reveals character; sets tone, and speaks to theme."
Total Turn-Offs
More importantly, Paula listed the turn-offs that would almost always prompt an agent or publishing house editor to stop reading a manuscript. Here are some of them:
Never open with weather — UNLESS it propels the plot, or affects the hero in a bad way. (I get it. Charles Dickens starts Bleak House with a four-page description of the fog in London. Of course,  back then readers did not have TV, Netflix, or video games — or a readily available supply of novels through Kindle– to distract them!)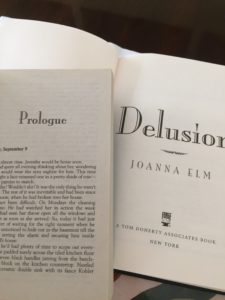 2. Avoid  prologues (I didn't heed that advice in either of my first two novels.  See photo.) But, if you have to use a prologue, use a time/place reference as a subhead (Whew! I did.)  Or use a device like a news clipping, diary entry, — or a different format, for example, paragraphs in italics as Dennis Lehane does in his most recent bestseller, Since We Fell.
3. Don't start with a dream (Unless you are Daphne du Maurier and your opening line (in Rebecca) is "Last night I dreamed I went to Manderley again.")
Don't start with a character alone and thinking. A character, whether it is the protagonist or antagonist, should always be doing something in the opening scene.
Other No-Nos
In the second tutorial of the Boot Camp, Andrea Hurst, a published author and literary agent also spoke about "what doesn't work" in an opening scene:
Lots of back story and/or flashbacks
No action, because that means no conflict.
Data or information dumps.
Next week: Writers Boot Camp: Was it Worth It? I'll detail some of the questions and answers that arose during the discussion period with the literary agents, and I'll tell how the Boot Camp worked out for me.